Details: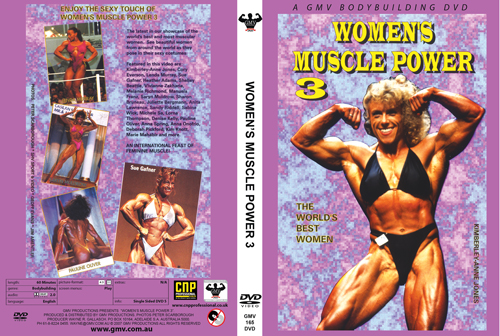 WOMEN'S MUSCLE POWER #3 - THE WORLD'S BEST WOMEN
Here is the latest in our showcase series of the world's best and most muscular women. See beautiful physique women from around the world as they pose in various types of sexy costumes. The women range from Ms Olympia winners or competitors to National Champions.
In this DVD you will see posing by the following stars of the sport:
Lenda Murray
Lorna Thompson
Sue Gafner
Heather Adams
Vivianne Zakharia,
Kimberley-Anne Jones
Sharon Bruneau
Manuela Franz
Sandy Riddell
Anna Maria Onofrio
Cory Everson,
Sarah Wessendorf
Martine Perez
Michelle Sa
Saryn Muldrow
Juliette Bergmann
Shelley Beattie,
Melanie Richmond
Denise Kelly
Pauline Oliver
Anita Lawrence
Anna Spring
Deborah Pickford,
Sabine Wick
Marie-Laure Mahabir
Kim Knott - and many more.
It is an international feast of feminine muscle!



Running Time: 65 mins

* Available in NTSC DVD Only (Region Free)
* THIS DVD WILL PLAY ON ANY DUAL SYSTEM NTSC / PAL DVD PLAYER AND TV. Or any PC DVD.