Details: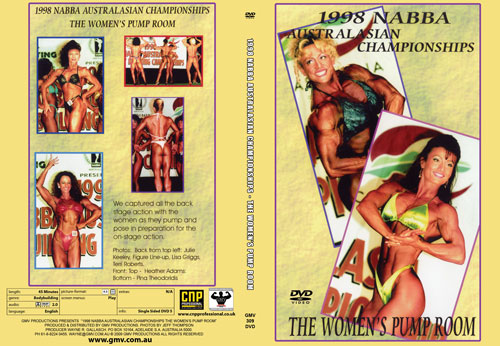 1989 NABBA AUSTRALASIA: THE WOMEN'S PUMP ROOM
The top female bodybuilders of Australia gathered on 12th September in Darwin, Northern Territory, to vie for the National titles and consequently win trips to the 50th NABBA Universe in the UK. The venue was the huge Marrara Sports Stadium in Darwin.
Our cameraman was stationed in the Women's Pump Up area throughout the contest and shot this wonderful footage for us. You will see the women listed below as they pump and pose backstage.

PINA THEODORIDIS was the Overall Figure Winner, pictured front cover above along with Physique Winner HEATHER ADAMS.

The class winners as follows:
FIGURE CLASS TALL:
1. Gaylene Richards
2. Melissa Hasanagic
FIGURE CLASS SHORT & OVERALL PLACINGS
1. Pina Theodoridis
2. Terri Roberts
3. Kyme Brandhoff
4. Lisa Griggs
5. Gaylene Richards
6. Melissa Hasanagic
7. Janelle McLean
8. Julie Keeley
FIGURE OVER 35

1. Julie Keeley

WOMEN'S PHYSIQUE

1. Heather Adams,
2. Peta Langmaid
Running Time: 50 mins

* Available in NTSC DVD Only (Region Free)
* THIS DVD WILL PLAY ON ANY DUAL SYSTEM NTSC / PAL DVD PLAYER AND TV. Or any PC DVD.