Details: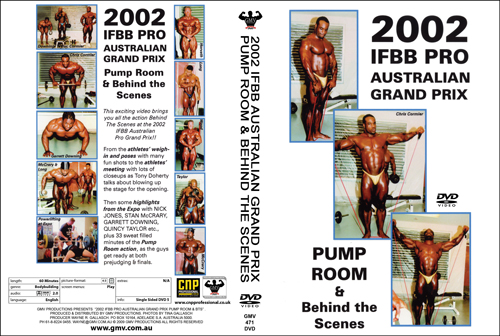 2002 IFBB Australian Pro Grand Prix Pump Room
Pump Room & Behind the Scenes
This exciting video brings you all the action Behind The Scenes at the 2002 IFBB Australian Pro Grand Prix!! This DVD is a "must have" for all Cormier and Dexter Jackson fans. Dexter went on to become the 2008 Mr. Olympia.
From the athletes' weigh-in and poses with many fun shots to the athletes' meeting with lots of closeups as Tony Doherty talks about blowing up the stage for the opening.
Then some highlights from the Expo with NICK JONES, STAN McCRARY, GARRETT DOWNING, QUINCY TAYLOR etc., plus 33 sweat filled minutes of the Pump Room action, as the guys get ready at both prejudging & finals.

THE RESULTS:
1. Chris Cormier
2. Dexter Jackson
3. Jaroslav Horvath
4. Kevin Levrone
5. Jeff Long
6. Garrett Downing
7. Luke Wood
8. Quincy Taylor
9. Stan McCrary

Running Time: 60 mins

* Available in NTSC DVD Only (Region Free)
* THIS DVD WILL PLAY ON ANY DUAL SYSTEM NTSC / PAL DVD PLAYER AND TV. Or any PC DVD.