Details: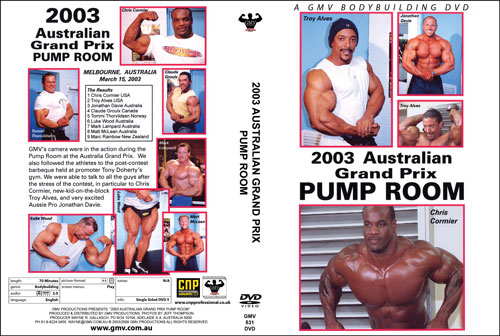 2003 AUSTRALIAN GRAND PRIX PUMP ROOM
MELBOURNE, AUSTRALIA March 15, 2003
Our 2 cameras were in the thick of the action during the Pump Room at the Australia Grand Prix. We also followed the athletes to the post-contest barbeque held at promoter Tony Doherty's Gym. We were able to talk to all the guys after the stress of the contest, in particular to Chris Cormier, new-kid-on-the-block Troy Alves, and very excited Aussie Pro Jonathan Davie.

The Results:
1 Chris Cormier - USA
2 Troy Alves - USA
3 Jonathan Davie - Australia
4 Claude Groulx - Canada
5 Tommi Thorvildsen - Norway
6 Luke Wood - Australia
7 Mark Lampard - Australia
8 Matt McLean - Australia
9 Marc Rainbow - New Zealand

Running Time: 70 mins

* Available in NTSC DVD Only (Region Free)
* THIS DVD WILL PLAY ON ANY DUAL SYSTEM NTSC / PAL DVD PLAYER AND TV. Or any PC DVD.