Details: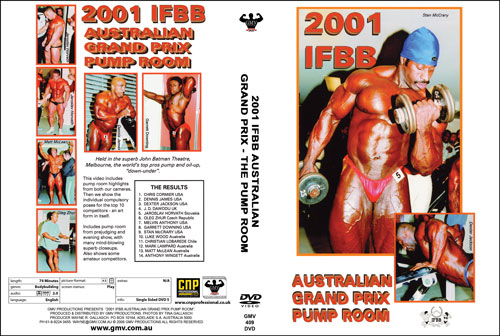 2001 IFBB Australian Grand Prix - The Pump Room
Held in Melbourne Victoria, this was the first Pro Grand Prix held in Australia for many years.
It was the 3rd contest victory of the season for the sensational CHRIS CORMIER who was in probably the best condition of his life. Dennis James was great fun, with his own special brand of magic - one of the best shows ever seen in Australia.
The video includes pump room highlights from both our cameras. Then we show the individual compulsory poses for the top ten competitors - an art form in itself.
Includes the pump room from the prejudging and show, with many mind-blowing superb close ups. Also shows some amateurs.
The Results:
1. CHRIS CORMIER USA
2. DENNIS JAMES USA
3. DEXTER JACKSON USA
4. J. D. DAWODU UK
5. JAROSLAV HORVATH Slovakia
6. OLEG ZHUR Czech Republic
7. MELVIN ANTHONY USA
8. GARRETT DOWNING USA
9. STAN McCRARY USA
10. LUKE WOOD Australia
11. CHRISTIAN LOBAREDE Chile
12. MARK LAMPARD Australia
13. MATT McLEAN Australia
14. ANTHONY WINGETT Australia
Withdrew: Andrei Cadariu Romania

Running Time: 74 mins

* Available in NTSC DVD Only (Region Free)
* THIS DVD WILL PLAY ON ANY DUAL SYSTEM NTSC / PAL DVD PLAYER AND TV. Or any PC DVD.