Details: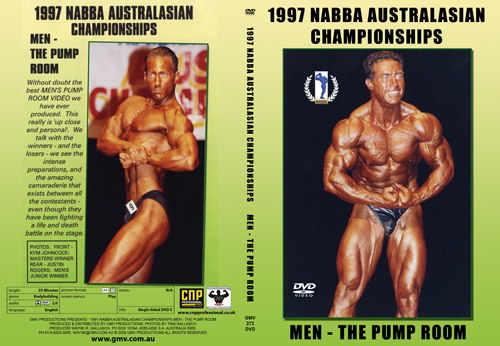 1997 NABBA Australasia: The Men's Pump Room
Without doubt the best Men's Pump Room DVD we have ever produced in Australia or any where else in the Southern Hemisphere!
This really is "up close and personal" with most of the top guys back stage. We talk with the winners - and the losers; we see the intense preparations, and the amazing camaraderie that exists between all the competitors - even though they have been fighting a life and death battle on stage. At the end of the day they are all good mates as we say in Australia!
The Overall Mr Australasia winner was JUSTIN WESSELS. Pictured on the front cover above is Kym Johncock, Masters Winner. Justin Rogers the Juniors winner is pictured on the rear of the cover. 11 years later, JUSTIN WESSELS again won the National titles in winning the 2008 NABBA OVERALL MR AUSTRALIA. Please click here for PCB-718DVD.
The Class Winners -
Men's Juniors: Justin Rogers (Vic)
Men's Masters: Kym Johncock (S.A)
Men's Open Class 4: Nick Jones (S.A)
Men's Open Class 3: Rui Mu (N.T)
Men's Open Class 2: Justin Wessels (N.T)
Men's Open Class 1: Don Mahoney (VIC)
Mr. Australasia Overall Champion: Justin Wessels
Please click here for DVDs on NICK JONES PCB-691DVDSP.

Running Time: 60 mins

* Available in NTSC DVD Only (Region Free)
* THIS DVD WILL PLAY ON ANY DUAL SYSTEM NTSC / PAL DVD PLAYER AND TV. Or any PC DVD.