Details: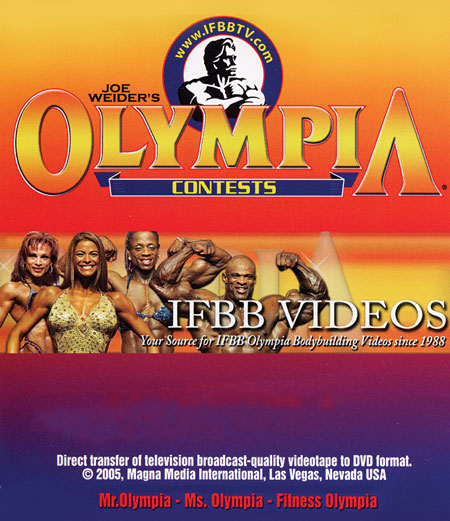 2001 Ms. Olympia

2001 MS. OLYMPIA. Juliette returns! Thirteen years after her last competition, at age 42 Juliette Bergmann wins not only the lightweight Ms. Olympia title but also bested Iris Kyle for the "overall" championship.

2001 MS. OLYMPIA RESULTS:
LIGHTWEIGHT:
1 Juliette Bergmann
2 Andrulla Blanchette
3 Dayana Cadeau
4 Brenda Raganot
5 Gayle Moher
6 Renee Casella
7 Kim Harris
8 Fannie Barrios
9 Angela Debatin
10 Joanna Thomas

HEAVYWEIGHT:
1 Iris Kyle
2 Vickie Gates
3 Yaxeni Oriquen
4 Valentina Chepiga
5 Lesa Lewis
6 Betty Pariso
7 Heather Foster

OVERALL MS. OLYMPIA: JULIETTE BERGMAN - HOLLAND

This is an authorized and licensed copy made directly from the broadcast-quality master tape. It does not come with the original video cover information.

Running Time: 90 mins

* Available in NTSC DVD Only (Region Free)
* THIS DVD WILL PLAY ON ANY DUAL SYSTEM NTSC / PAL DVD PLAYER AND TV. Or any PC DVD.