Details: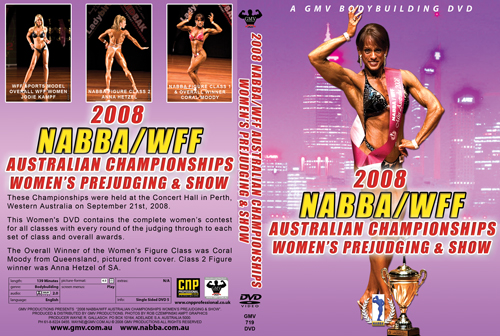 2008 NABBA/WFF AUSTRALIAN CHAMPIONSHIPS - THE WOMEN: PREJUDGING & SHOW
These Championships were held at the Perth Concert Hall, in Perth, Western Australia on September 21st, 2008. See the best women's physiques in Australia at these National Championships for both NABBA and the WFF. Teams were selected to compete in the NABBA Universe in England and the WFF Worlds in Germany.
This superb Women's DVD contains the complete women's contest with every round of the judging through to each set of class and overall awards at the evening show.
Cover photos by Rob Czempinski, AMPT GRAPHICS.
For the Women's Results see below.
WOMEN'S CLASSES RESULTS:
NABBA OPEN WOMEN'S PHYSIQUE
1. NICKI WARE
NABBA NOVICE FIGURE CLASS II
1. AMY FOX
2. SAM ATTRILL
3. JESSICA BROWN
NABBA NOVICE FIGURE CLASS I
1. WENDY JONES
2. TRACEY WALKER
3. BRONWYN CAMPBELL
DNP: TANJA GARIC, BRONWEN FUCHSBICHLER, JENNI OVENS, CHRISTINA BURNS, DEE MARSH, AMANDA WILSON, MARIA SARULLO
NABBA OPEN FIGURE CLASS II
1. ANNA HETZEL
2. IRENE NICKOLE
3. LOUISE RAUCHWALD
NABBA OPEN FIGURE CLASS I
1. CORAL MOODY
NABBA OPEN FIGURE MASTERS OVER 35
1. KYME BRANDHOFF
2. TERRI ROBERTS
3. PETA BAKER
DNP: MARNIE SCHENK, KAREN JEFFREY, SUSAN MANSFIELD
NABBA COUPLES
1. WENDY JONES/LUKE McNALLY
2. TERRI ROBERTS/DAVID CIECHANOWICZ
WFF WOMEN'S FITNESS
1. BRITT BAILEY-KERBER
WFF SPORTS MODEL
1. JODIE KAMPF
2. LOUISE PALMER
3. ALLY JOHNSTON
DNP: HEATHER MORRISON, JOANNA NICHOLAS, JANE HOLDING
WFF MISS ATHLETIC MASTERS OVER 40
1. MANDY KNOWLES
2. LESLEY MAXWELL
3. DIANE LANG
DNP: JULIE NICHOLSON, HILARY REID
WFF MISS ATHLETIC OPEN CLASS II
1. GEMMA IRVING
2. ALICIA LITCHFIELD
3. CARRYN DUFF
DNP: NICOLE MAXIMILIAN, NICOLA HIBBERT
WFF MISS ATHLETIC OPEN CLASS I
1. VICKI SAUERWALD
2. ANITA NICOLAOU
3. BELINDA THORLEY
DNP: CECILIA ARRIAZA, RENEE PETERS

WFF OVERALL WOMEN: MANDY KNOWLES
WFF OVERALL MEN: PHIL KARLHUBER
NABBA OVERALL WOMEN'S FIGURE: CORAL MOODY
NABBA OVERALL MEN: JUSTIN WESSELS

Running Time: 139 mins

* Available in NTSC DVD Only (Region Free)
* THIS DVD WILL PLAY ON ANY DUAL SYSTEM NTSC / PAL DVD PLAYER AND TV. Or any PC DVD.