Details: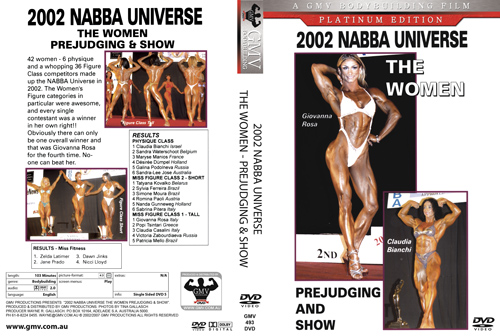 2002 NABBA Universe: The Women - Prejudging & Show
42 women - 6 physique and a whopping 36 Figure Class competitors made up the NABBA Universe in 2002. The Women's Figure categories in particular were awesome, and every single contestant was a winner in her own right!! Obviously there can only be one overall winner and that was Giovanna Rosa for the fourth time. No-one can beat her.
Results:
MISS PHYSIQUE

1 Claudia Bianchi, Israel
2 Sandra Waterschoot, Belgium
3 Maryse Manios, France
4 Désirée Dümpel, Holland
5 Galina Podolneva, Russia
6 Sandra-Lee Jose, Australia

MISS FIGURE CLASS 2 - SHORT

1 Tatyana Kovalko, Belarus
2 Sylvia Ferreira, Brazil
3 Simone Moura, Brazil
4 Romina Paoli, Austria
5 Nanda Gunneweg, Holland
6 Sabrina Pitera, Italy

MISS FIGURE CLASS 1 - TALL

1 Giovanna Rosa, Italy
2 Popi Tsintari, Greece
3 Claudia Casalini, Italy
4 Victoria Zabourdiaeva, Russia
5 Patricia Mello, Brazil
6 Cherie Loomes, South Africa

OVERALL FIGURE CHAMPION
Giovanna Rosa

MISS FITNESS CHAMPION
Zelda Latimer UK

Running Time: 103 mins

* Available in NTSC DVD Only (Region Free)
* THIS DVD WILL PLAY ON ANY DUAL SYSTEM NTSC / PAL DVD PLAYER AND TV. Or any PC DVD.