Details: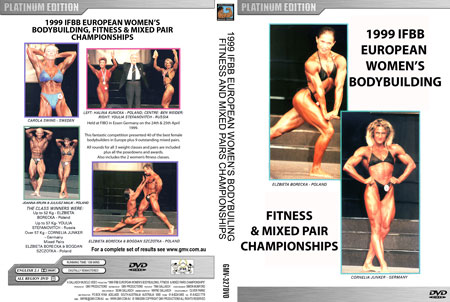 1999 IFBB European Women's Bodybuilding, Fitness & Mixed Pairs Championships
This major event was held at FIBO, Essen Germany on the 24th and 25th of April 1999. The competition presented 53 of the best female athletes in Europe plus 9 superb Mixed Pairs. All rounds for all 3 weight classes, plus fitnes and mixed pairs are included. You will see the exciting posedowns and awards. Ben Weider was also present at this event.

RESULTS:
Fitness up to 160 cm
Iveta Chrtanova (Slovakia) 1
Tünde Palatinus (Hungary) 2
Rosa Mena Berrocal (Spain) 3
Sabina Herrera (Spain) 4
Bohdana Melecka (Czech Rep.) 5
Margarita Avtioukhovitch (Russia) 6

Fitness over 160cm
Silvia Malachovska (Slovakia) 1
Linda Ekwall (Sweden) 2
Uta Köhler (Germany) 3
Beatrix Pinter (Hungary) 4
Mari Myötyri (Finland) 5
Gabriela Kubesova (Czech Rep.) 6
Women up to 52kg
Elzbieta Borecka (Poland) 1
Christina Merino (Spain) 2
Vlasta Kacafirkova (Czech Rep.) 3
Monika Volb (Austria) 4
Sylvie Cayrac (France) 5
Michaela Mizickova (Slovakia) 6

Women up to 57kg
Youlia Stefanovitch (Russia) 1
Halina Kunicka (Poland) 2
Carola Swing (Sweden) 3
Jackie Parish (England) 4
Nina Neulinger (Austria) 5
Irina Nicoletta Muntean (Rumania) 6
Women + 57kg

Cornelia Junker (Germany) 1
Michaela Baumer (Germany) 2
Monica Sas (Rumania) 3
Alexandra Tothova (Czech Rep.) 4
Monika Biernacka (Poland) 5
Miriam Pechlova (Slovakia) 6
Mixed Pairs
Szczotka & Borecka Poland 1
Malik & Krupa Poland 2
Orian & Muntean Rumania 3
Reiche & Gercke Germany 4
Janonis & Janoniene Lithuania 5
Stoilov & Siarova Bulgaria 6

Running Time: 108 mins

* Available in NTSC DVD Only (Region Free)
* THIS DVD WILL PLAY ON ANY DUAL SYSTEM NTSC / PAL DVD PLAYER AND TV. Or any PC DVD.