Details: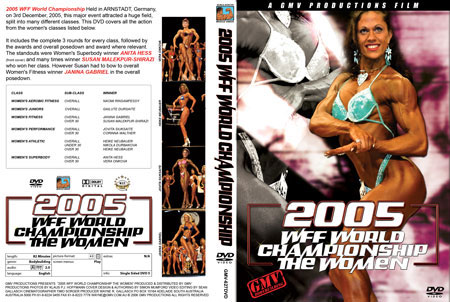 2005 WFF World Championship - The Women
Held in ARNSTADT, Germany, on 3rd December, 2005, this major event attracted a huge field, split into many different classes.
This DVD covers all the action from the women's classes listed below.

It includes the complete 3 rounds for every class, followed by the awards and overall posedown and award where relevant. The standouts were Women's Superbody winner ANITA HESS and many times winner SUSAN MALEKPUR-SHIRAZI who won her class. However Susan had to bow to overall Women's Fitness winner JANINA GABRIEL in the overall posedown.

CLASS SUB-CLASS WINNER

WOMEN'S AEROBIC FITNESS NAOMI RINSAMPESSY

WOMEN'S JUNIORS GAILUTE DURSAITE

WOMEN'S FITNESS OVERALL JANINA GABRIEL
OVER 30 SUSAN MALEKPUR-SHIRAZI

WOMEN'S PERFORMANCE OVERALL JOVITA SIUKSAITE
OVER 30 CORINNA WALTHER

WOMEN'S ATHLETIC UNDER 30 NIKOLA DURBAKOVA
OVER 30 & OVERALL HEIKE NEUBAUER

WOMEN'S SUPERBODY OVERALL ANITA HESS
OVER 30 VERA ONKOVA

All photos by Klaus P.J. Hoffmann.
Special thanks to our German cameraman TIMO SORGER

Running Time: 85 mins

* Available in NTSC DVD Only (Region Free)
* THIS DVD WILL PLAY ON ANY DUAL SYSTEM NTSC / PAL DVD PLAYER AND TV. Or any PC DVD.