Details: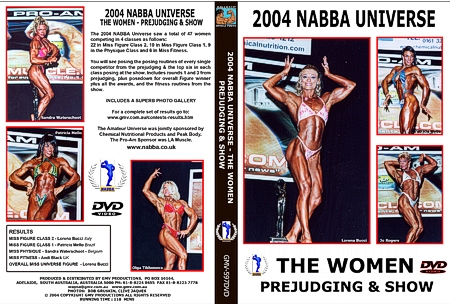 2004 NABBA Universe: The Women - Prejudging and Show
The 2004 NABBA Universe saw a total of 47 women competing in 4 classes as follows:
22 - Miss Figure Class 2
10 - Miss Figure Class 1
9 - Physique Class
6 - Miss Fitness
You will see the posing routines of every single competitor from the prejudging and the top 6 in each class posing at the show. Includes rounds 1 and 3 from prejudging, plus the posedown for Overall Figure Champion, as well as all the awards, and the fitness routines from the show.
INCLUDES A SUPERB PHOTO GALLERY.
MISS FIGURE - CLASS 2
1 Lorena Bucci, Italy
2 Flavia Crisos, Brazil
3 Tatiana Kovalko, Russia
4 Luciane Vieira, Brazil
5 Svitiana Oliynyk, Ukraine
6 Terri Roberts, Australia

MISS FIGURE - CLASS 1

1 Patricia Mello, Brazil
2 Yana Vladimirova, Russia
3 Anita Hess, Germany
4 Luanne Hart, South Africa
5 Natalia Shatokhina, Belarus
6 Jane Oliveira, Brazil

MISS PHYSIQUE

1 Sandra Waterschoot, Belgium
2 Olga Tikhonova, Russia
3 Jo Rogers, Australia
4 Olena Stadnik, Ukraine
5 Desiree Dumpel, Holland
6 Galina Podolneva, Russia

MISS FITNESS

1 Andi Black, UK (N. Ireland)
2 Paula Monteiro, Brazil
3 Helen Heanen, UK
4 Christina De Oliveira, South Africa
5 Elizabeth Kinsella, UK
6 Jolanta Milleriute, Lithuania

OVERALL MISS FIGURE: LORENA BUCCI

Running Time: 118 mins

* Available in NTSC DVD Only (Region Free)
* THIS DVD WILL PLAY ON ANY DUAL SYSTEM NTSC / PAL DVD PLAYER AND TV. Or any PC DVD.