Details: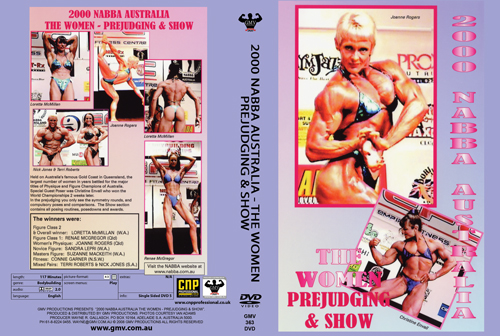 2000 NABBA Australian Championships: The Women - Prejudging & Show
This year the national event was held on the Gold Coast in Queensland on June 4th. The 2000 Australian Championships was a magnificent showcase for local, national and international female bodybuilding talent.

International - because most of the Australia winners went on to win at the World Championships in New Zealand just 2 weeks later.

Loretta McMillan of WA took out the Short Class Figure title ahead of Adelaide's Terri Roberts, and then went on to take out the OVERALL FIGURE CLASS title from the Tall class winner Renae McGregor of QLD.

The Physique Class winner was Joanne Rogers; Women's Masters winner was Suzanne MacKeith, and Novice Figure winner was Sandra Lepri.
Connie Garner took out the Women's Fitness title, following it up with the World Fitness title in New Zealand.
The star guest poser was the amazing CHRISTINE ENVALL, 3 time World Champion in the Physique Class.

COMPLETE RESULTS:

NOVICE FIGURE
1 Sandra Lepri WA
2 Nadia D'Alessandro WA

MASTERS FIGURE
1 Suzanne Mackeith WA
2 Tracy Dempsey SA
3 Terri Freeman VIC
4 Tania Legatt NSW
5 Jane Carlyle QLD

FIGURE CLASS 2
1 Loretta McMillan WA
2 Terri Roberts SA
3 Pauline Newman QLD
4 Janelle McLean SA
5 Catrina Ingram QLD
6 Debbie Travis QLD

FIGURE CLASS 1
1 Renae McGregor QLD
2 Gretal Gondor NSW
3 Kylie Boman NSW
4 Karen Reynolds QLD
5 Elvira Bosnjak ACT
6 Tammy Martin NSW

OVERALL FIGURE CLASS WINNER: LORETTA McMILLAN WA

PHYSIQUE CLASS
1 Joanne Rogers QLD
2 Lee-Ann Vincent WA
3 Peta Langmaid WA
4 Annette Dunn QLD
5 Debra Ross SA
6 Karen Rundell WA
7 Michelle Thompson QLD

MISS FITNESS
1 Connie Garner ACT

MIXED PAIRS
1 Nick Jones & Terri Roberts SA
2 Brad & Loretta McMillan WA

Christine Envall Guest Poser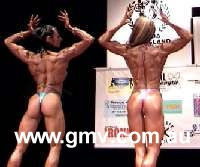 Loretta MacMillan & Terri Roberts
Joanne Rogers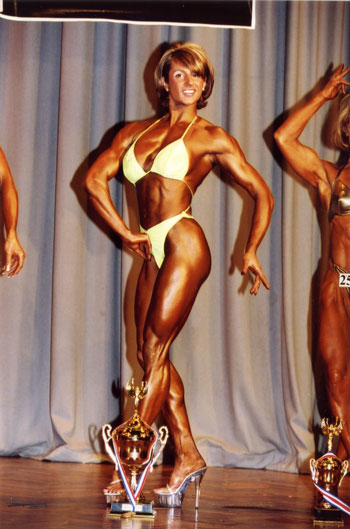 Loretta McMillan

Running Time: 117 mins

* Available in NTSC DVD Only (Region Free)
* THIS DVD WILL PLAY ON ANY DUAL SYSTEM NTSC / PAL DVD PLAYER AND TV. Or any PC DVD.