Details: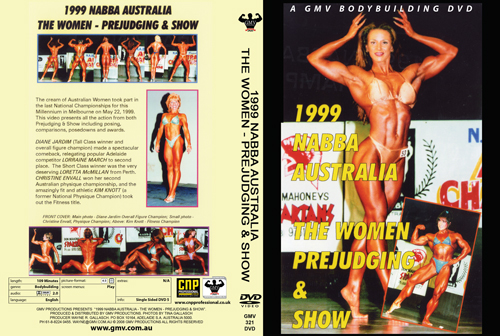 1999 NABBA AUSTRALIA: THE WOMEN – PREJUDGING & SHOW

The cream of Australian Women took part in the last National Championships for this Millenium. It was held in Melbourne on May 22nd, 1999. This DVD presents all of the action from both the Prejudging and the evening Show. It includes all posing routines, exciting posedowns and all awards.
DIANE JARDIM pictured front centre was the Tall Class winner and Overall Figure Class champion. She made a spectacular comeback from retirement relegating Adelaide's National Figure Champion LORRAINE MARCH to second place this time. Diane's previous international victories include a Grand Prix in Germany in 1996. She is destined to be a World Champion.
The Short Class winner was the outstanding LORETTA McMILLAN from Perth, W.A. Loretta later went on to win her Figure Class 2 at the NABBA Universe in UK in 2000.

Diane, Loretta and Lorraine all star in Women's Muscle Power #10.
The Physique class was won in convincing fashion by CHRISTINE ENVALL. This was her second National title at this event. She seemed unbeatable on any stage, such was her physique and condition. See picture lower front cover.
THE RESULTS:

NOVICE FIGURE CLASS
1 Angela Thomas WA
2 Renae Robertson QLD

WOMEN'S OVER 35
1 Suzanne McKeith WA
2 Tracy Dempsey SA

FIGURE CLASS 2
1 Loretta McMillan WA
2 Joanne Roberts VIC
3 Katherine Klaffer WA
4 Debbie Travis QLD
5 Hayley Dellaca NSW (Winner of Best Poser Award)

FIGURE CLASS 1
1 Diane Jardim QLD (Overall Figure Class Winner)
2 Lorraine March SA
3 Gaylene Richards VIC

WOMEN'S PHYSIQUE
1 Christine Envall VIC
2 Taylor Young NSW
3 Peta Langmaid WA
4 Sue Isaak QLD
5 Charmaine Hobbs QLD

FITNESS
1 Kim Knott SA
2 Connie Garner ACT
3 Nicky Davies VIC

Running Time: 109 mins

* Available in NTSC DVD Only (Region Free)
* THIS DVD WILL PLAY ON ANY DUAL SYSTEM NTSC / PAL DVD PLAYER AND TV. Or any PC DVD.