Details: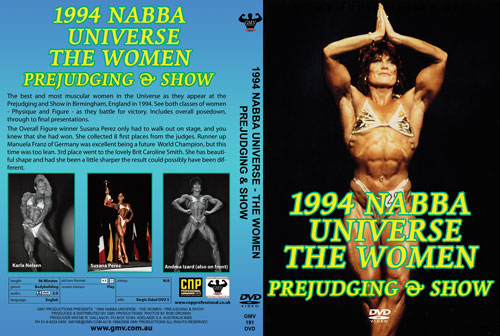 1994 NABBA Universe: Women - Prejudging & Show
Presenting the best and most muscular women in the Universe as they appear at the NABBA Universe Prejudging and Show in Birmingham, England in 1994. See both classes of women - Physique and Figure - as they battle for victory. Includes overall posedowns for Figure and Physique Classes through to the final presentations.

Photos below: Top Andrea Izard (Aust.) - Overall Physique Champion; Bottom from left to right - Manuela Franz (Germany), Susanna Perez (Spain), Caroline Smith (England). The full results listing every competitor is below.
MISS FIGURE CLASS 2
The winner SUSANA PEREZ only had to walk out on stage, and you knew that she had won. She collected 8 first places from the judges. Runner up Manuela Franz of Germany was excellent being a future World Champion, but this time was too lean. 3rd place went to the lovely Brit Caroline Smith. She has beautiful shape and had she been a little sharper the result could possibly have been different.

MISS FIGURE CLASS 1
Spain made it a clean sweep in the Figure classes with SUSANA PALMA taking this title, 10 points ahead of Merise Miragliotta of Australia. Both showed great condition and wonderful shape with the Aussie being a little leaner while Palma was more complete from posing down to the detail of her physique. In 3rd place was the brilliant Claudia Rohrs of Germany displaying enough potential to win this class if she wants it.

MISS PHYSIQUE CLASS 2
CATHY BUTLER CORISH of USA was an absolute standout if you judge by muscle mass and density along with first class condition. She would not have looked out of place in any Ms Olympia lineup. In second place was Tiziana Tecca from Italy. She was lightly built with fine bones and was razor sharp. Third place went to Holland with Sharine Martis flying the flag again for Europe. She had a solid, compact physique which was a little heavy in the traps.

MISS PHYSIQUE CLASS 1
With 7 top competitors in this class, the 2 classes were evenly balanced between short and tall. With 8 first place votes, the very clear winner and most outstanding physique was ANDREA IZARD of Australia. She displayed the perfect combination of condition, shape and femininity without looking "over the top", or unbalancing her perfectly symettrical physique. Andrea displayed one of the best "V" shapes and most impressive physiques that I have ever seen in women's bodybuilding at the Universe.
In second place was the fiesty Italian, Cinzia Campeis with her amazing shape, size and definition. Third place went to the German star and former Ms Olympia competitor, Vera Bendel. She displayed a typically hard core physique of excellent quality and good proportions in all areas.

Two other competitors of note were USA's 6' tall Amazon Karla Nelsen and UK's Julia Abell. This was Nelsen's second time at the Universe and sadly for her she could not grab 3rd place ahead of Bendel. Only 4 points separated them. Julia Abel went on to eventually win the Overall title in this class in 1998.
THE OVERALL POSEDOWNS

FIGURE CLASS
SUSANA PEREZ won the battle of Spain with simply too much class, quality and style for the lovely Susana Palma. This was her second overall Figure Class title and Susana Perez went on to make it 3 in a row when she won it again in 1995. Her posing was so outstanding it sent shivers up one's spine. In 2007 Susana received the highest bodybuilding award in recognition of her achievements in the sport with her Lifetime Acievement Award from the OH Foundation.

PHYSIQUE CLASS
ANDREA IZARD from Australia proved that her outstanding physique was the best in the Universe that day with her overall shape and sheer class and professionalism proving to be more appealing than the hard core physique of USA's Butler Corish. Cathy took the title in 1995 but this year belonged to the superb Izard who had one of the best female physiques ever seen at the Universe.

COMPLETE RESULTS:

FIGURE CLASS 2
1 Susana Perez Spain
2 Manuela Franz Germany
3 Caroline Smith UK
4 Anke Schwarz Germany
5 Susan Jansen UK
6 Lucia Schmid Brazil
7 Kairen Jackson UK
8 Jackie Lewis UK
9 Inge Babel Germany
10 Mirella Cotella Italy

FIGURE CLASS 1
1 Susana Palma Spain
2 Merise Miragliotta Australia
3 Claudia Rohrs Germany
4 Francoise Rivier France
5 Clara Isabel Garcia Spain
6 Manuela Neugebauer Germany
7 Lynn Perrott UK
8 Tanja Seydlitz Germany
9 Donna Price UK
NP
Janine Payne UK
Kirstin Hoyler Germany
Oxana Naga Ukraine
Saule Kazlauskyte Lithuania

PHYSIQUE CLASS 2
1 Cathy Butler Corish USA
2 Tiziana Tecca Italy
3 Sharine Martis Holland
4 Elaine Bell UK
5 Idalija Kaminskaite Lithuania
6 Giselle Jones UK

PHYSIQUE CLASS 1
1 Andrea Izard Australia
2 Cinzia Campeis Italy
3 Vera Bendel Germany
4 Karla Nelsen USA
5 Ingrid Distler Germany
6 Julia Abel UK
7 Jillene Girvan UK

OVERALL FIGURE MISS UNIVERSE: Susana Perez Spain
OVERALL PHYSIQUE MISS UNIVERSE: Andrea Izard Australia
Running time: 96 mins

* Available in NTSC DVD Only (Region Free)
* THIS DVD WILL PLAY ON ANY DUAL SYSTEM NTSC / PAL DVD PLAYER AND TV.