Details: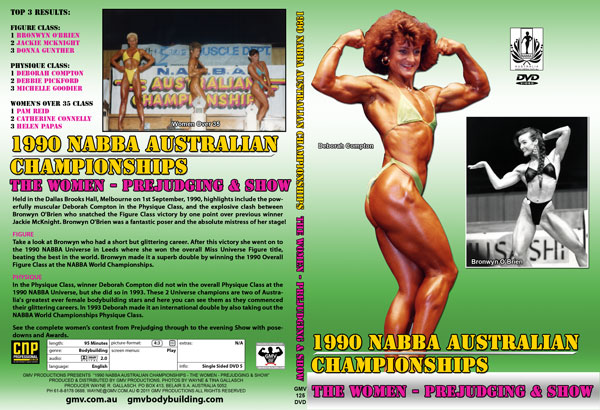 1990 NABBA Australian Championships: The Women - Prejudging and Show
Highlights include the powerfully muscular Deborah Compton in the Physique Class, and the explosive clash between Bronwyn O'Brien who snatched the Figure Class victory by one point over previous winner Jackie McKnight. Bronwyn O'Brien was a fantastic poser and the absolute mistress of her stage!
FIGURE
Take a look at Bronwyn who had a short but glittering career. After this victory she went on to the 1990 NABBA Universe in Leeds where she won the overall Miss Universe Figure title, beating the best in the world. Bronwyn made it a superb double by winning the 1990 Overall Figure Class at the NABBA World Championships.
PHYSIQUE
In the Physique Class, winner Deborah Compton did not win the overall Physique Class at the 1990 NABBA Universe, but she did so in 1993. These 2 Universe champions are two of Australia's greatest ever female bodybuilding stars and here you can see them as they commenced their glittering careers.

In 1993 Deborah made it an international double by also taking out the NABBA World Championships Physique Class.
See the contest from Prejudging through to the evening Show with posedowns and Awards. Due to politics, we did not do the camerawork for this event but we did do the editiing and post production. It was held at the Dallas Brooks Hall in Melbourne. This is the home of the Australian Grand Prix and is the Mecca of Aussie bodybuilding venues.
WOMEN'S OVER 35
South Australia's Pam Reid was the clear cut winner of this class from Catherine Connelly with Helen Papas in 3rd place.
This is one of the most outstanding, highest standard women's contest DVDs we have ever offered.
RESULTS:
Figure Class:
1 Bronwyn O'Brien
2 Jackie McKnight
3 Donna Gunther
4 Judy Green
5 Jacki Grieger
6 Roslyn Kostanti
7 Meredith Wilkie
8 Victoria Nicholson
9 Judy Campbell
10 Anne Roth
11 Elizabeth Evans
Physique Class:
1 Deborah Compton
2 Debbie Pickford
3 Michelle Goodier
4 Gillian Marusco
5 Lee-Anne Whinnen
6 Kathy Wilson
Women's Over 35 Class
1 Pam Reid
2 Catherine Connelly
3 Helen Papas
4 Trish Saga
5 Sue Rodger-Withers

Running Time: 105 mins

* Available in NTSC DVD Only (Region Free)
* THIS DVD WILL PLAY ON ANY DUAL SYSTEM NTSC / PAL DVD PLAYER AND TV. Or any PC DVD.