Details: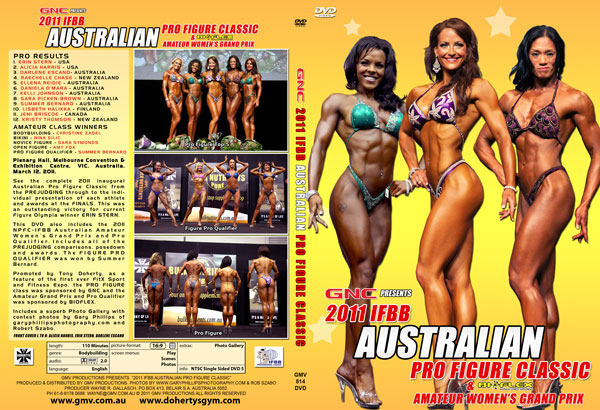 2011 Australian Pro Figure Classic & Amateur Women's Grand Prix
Plenary Hall, Melbourne Convention & Exhibition Centre, VIC. Australia. March 12, 2011.
See the complete 2011 inaugural Australian Pro Figure Classic from the PREJUDGING through to the individual presentation of each athlete and awards at the FINALS. This was an outstanding victory for current Figure Olympia winner ERIN STERN.
This DVD also includes the 2011 NPFC-IFBB Australian Amateur Women's Grand Prix and Pro Qualifier. Includes all of the PREJUDGING comparisons, posedown and awards. The FIGURE PRO QUALIFIER was won by Summer Bernard.
Promoted by Tony Doherty, as a feature of the first ever FitX sport and Fitness Expo, the PRO FIGURE class was sponsored by GNC and the Amateur Grand Prix and Pro Qualifier was sponsored by BIOFLEX.
Includes a superb Photo Gallery
2011 IFBB Australian Pro Figure Classic Results:
1. Erin Stern - USA
2. Alicia Harris - USA
3. Darlene Escano- Australia
4. Raechelle Chase - New Zealand
5. Ellena Reidie - Australia
6. Daniela O'Mara - Australia
7. Kelli Johnson - Australia
8. Sara Picken-Brown - Australia
9. Summer Bernard - Australia
10. Lisbeth Halikka - Finland
11. Jeni Briscoe - Canada
12. Kristy Thomson - New Zealand
2011 IFBB Australian Amateur Grand Prix
THE WOMEN
WOMEN'S BODYBUILDING
1. Christine Zadel
BIKINI
1. Nina Silic
2. Tracy Charles
3. Heather Magee
Nelly Tankov
Evelyn Trounson
Lahnee Thomas
Angie Moore
NOVICE FIGURE
1. Sara Symonds
2. Helen Zahra
3. Maria Kirkilis
Shona Mitchell
Natasha Tartaglia
Bronwyn Bishop
Linda Richards
Leanne Avery
OPEN FIGURE
1. Amy Fox
2. Lesley Rothera
3. Skye Cushway
Susan Ussher
Anne Tran
Georgia Holton
Lisa Allan
Brooke Dunlop
FIGURE PRO QUALIFIER
1. Summer Bernard
Terri-Anne Grey
Katie Morris
Samantha Dunbar-Manucci
Vania Primmer
Nicky Jankovic
Sam Attrill
Ally Johnston



Running Time: 110 mins

* Available in NTSC DVD Only (Region Free)
* THIS DVD WILL PLAY ON ANY DUAL SYSTEM NTSC / PAL DVD PLAYER AND TV. Or any PC DVD.