Details: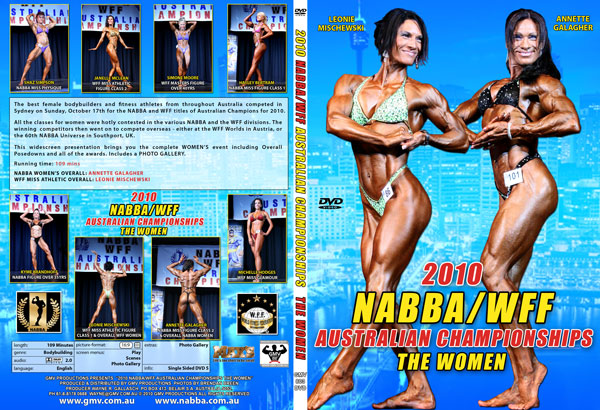 2010 NABBA/WFF Australian Championships - The Women
The best male and female bodybuilders and fitness athletes from throughout Australia competed at the Nationals in Sydney on Sunday, October 17th for the NABBA and WFF titles of Australian Champions for 2010.
All the classes for women were hotly contested in the various NABBA and the WFF divisions. The winning competitors then went on to compete overseas - either at the WFF Worlds in Austria, or the 60th NABBA Universe in Southport, UK.
This massive widescreen 16:9 presentation brings you the COMPLETE WOMEN'S EVENT including all the comparisons and posing through to the Overall Posedowns and all awards.
Photos by Brendan Breen. Widescreen 16:9
EXTRAS:
Photo Gallery
NABBA WOMEN'S OVERALL WINNER: ANNETTE GALAGHER
WFF MISS ATHLETIC OVERALL WINNER: LEONIE MISCHEWSKI
2010 NABBA/WFF Australian Bodybuilding Championships - Women's Results
Sydney, 17th October, 2010
NABBA Figure Over 35yrs
1. Kyme Brandhoff
2. Susan Mansfield
3. Carol Lally
DNP:
Mandi Ritchie
Jennifer Garrett
Cherie Wyer
Debbie Dunkley
Sara Simmons
Leisa Wone
WFF Masters Figure Over 40yrs
1. Simone Moore
2. Kerry Ware
3. Tanya Duncan
NABBA Miss Physique
1. Shaz Simpson
WFF Miss Glamour
1. Michelle Hodges
2. Candice Blackburn
WFF Miss Athletic Figure Class 2
1. Janelle McLean
2. Nicole Jacobson
3. Trudy Rowles
4. Sally Hawkins

WFF Miss Athletic Figure Class 1
1. Leonie Mischewski
2. Tracey Guile
3. Janere Reid
DNP:
Sherrie Gassow
Kim Burton
Melissa Wilczynski
NABBA Miss Figure Class 2
1. Annette Galagher
2. Terri Roberts
3. Kate Henderson
DNP:
Cindy - Jay Ryan
Susan Stringer

NABBA Miss Figure Class 1
1. Hayley Bertram
2. Sharon Tonkin
3. Catherine Davidson
DNP:
Nicole Maggs
Kara Eames



Running Time: 110 mins

* Available in NTSC DVD Only (Region Free)
* THIS DVD WILL PLAY ON ANY DUAL SYSTEM NTSC / PAL DVD PLAYER AND TV. Or any PC DVD.