Details: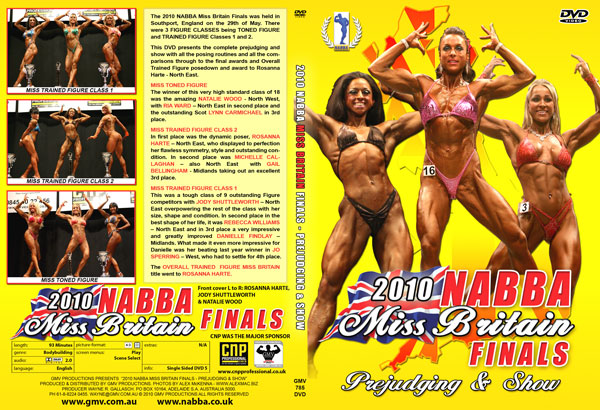 2010 NABBA MISS BRITAIN FINALS PREJUDGING and SHOW
The 2010 NABBA Miss Britain Finals was held in Southport, England on the 29th of May. There were 3 FIGURE CLASSES being TONED FIGURE and TRAINED FIGURE CLASSES 1 and 2.
This DVD presents the complete prejudging and show with all the posing routines and all the comparisons through to the final awards and Overall Trained Figure posedown and award to Rosanna Harte who represented the North East.
MISS TONED FIGURE
The winner of this very high standard class of 18 was the amazing NATALIE WOOD - North West, with RIA WARD – North East in second place and the outstanding Scot LYNN CARMICHAEL in 3rd place.
MISS TRAINED FIGURE CLASS 2
In first place was the dynamic poser, ROSANNA HARTE – North East, who displayed to perfection her flawless symmetry, and outstanding condition. It was obvious from her routine that Rosanna has also had training in ballet dancing such was the style and charisma she brought to her performance. I have seen none better! In second place was MICHELLE CALLAGHAN – also North East with GAIL BELLINGHAM - Midlands taking out an excellent 3rd place.
MISS TRAINED FIGURE CLASS 1
This was a tough class of 9 outstanding Figure competitors with JODY SHUTTLEWORTH – North East overpowering the rest of the class with her size, shape and condition. In second place in the best shape of her life, it was REBECCA WILLIAMS – North East and in 3rd place a very impressive and greatly improved DANIELLE FINDLAY – Midlands. What made it even more impressive for Danielle was her beating last year winner in JO SPERRING – West, who had to settle for 4th place.
The OVERALL TRAINED FIGURE MISS BRITAIN title went to ROSANNA HARTE.
Front cover photos from left to right: Rosanna Harte, Jody Shuttleworth and Natalie Wood.
Complete Women's Results:
Miss Toned Figure
1 Natalie Wood - North West
2 Ria Ward - North East
3 Lynn Carmichael - Scotland
4 Heather McGee - N.Ireland
5 Adele Blake - South
6 Sarah Muru - North West
7 Caroline Oliver - Midlands
8 Rachel Radford - Midlands
Gemma Marks - West
Louise Noble - North
Samantha Mansley - North East
Lesley Ann Armstrong - N.Ireland
Francesca Giaconini - South East
Michelle Mercer - Midlands
Catherine Hosker - North West
Victoria Sanderson - North
Lesley Baldwin - North
Kayleigh-Jo Osborne - North East
Miss Trained Figure Class 2
1 Rosanna Harte - North East
2 Michelle Callaghan - North East
3 Gail Bellingham - Midlands
4 Anita Kenyon - North West
5 Francesca Steele - West
6 Hazel Kidd - Scotland
7 Vanessa Sewell - North West
8 Debbie Keating - South East

Miss Trained Figure Class 1
1 Jody Shuttleworth - North East
2 Rebecca Williams - North East
3 Danielle Findlay - Midlands
4 Jo Sperring - West
5 Natalie Jakomis - Wales
6 Jo Olsson - Midlands
7 Pamela Higgins - North
8 Lisa Clarke - North
Katherine Reid - N.Ireland

2010 OVERALL NABBA MISS BRITAIN TRAINED FIGURE: Rosanna Harte - North East



Running Time: 93 mins

* Available in NTSC DVD Only (Region Free)
* THIS DVD WILL PLAY ON ANY DUAL SYSTEM NTSC / PAL DVD PLAYER AND TV. Or any PC DVD.