Details: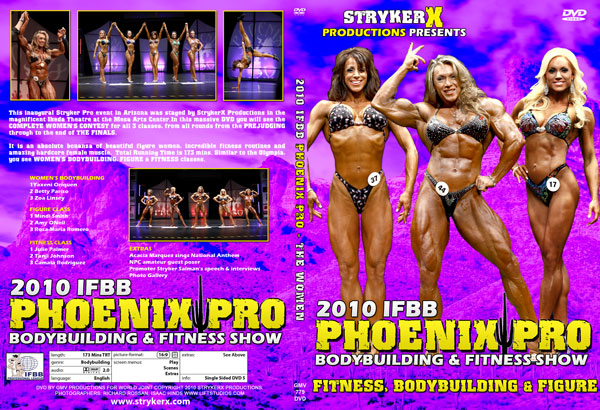 2010 IFBB PHOENIX PRO: The Women's Prejudging & Finals BODYBUILDING, FIGURE & FITNESS
Presented by StrykerX Productions
As part of the 2010 IFBB PHOENIX PRO BODYBUILDING & FITNESS SHOW
Ikeda Theatre
Mesa Arts Center
Mesa, Arizona
Saturday, February 20th, 2010
PREJUDGING & FINALS
This inaugural Stryker Pro event in Arizona was staged by StrykerX Productions in the magnificent Ikeda Theatre at the Mesa Arts Center. It was presented in front of a large and appreciative audience.
In this massive DVD you will see the COMPLETE WOMEN'S CONTEST for all 3 classes, from all rounds from the PREJUDGING through to the end of THE FINALS. It is an absolute bonanza of beautiful figure women, incredible fitness routines and amazing hardcore female muscle.
The three class winners were -

BODYBUILDING – Yaxeni Oriquen Garcia (front cover centre)
FIGURE – Mindi Smith (front cover right)
FITNESS – Julie Palmer (front cover left)
The Complete Results:
Women's Bodybuilding

1Yaxeni Oriquen
2 Betty Pariso
3 Zoa Linsey
4 Jeannie Paparone
5 Dena Westerfield
6 Colette Nelson
7 Antoinette Thompson
7 Diana Stanback
9 Gayle Moher
10 Akila Pervis
11 Myriam Bustamante
12 Mari Carmen Gomez Segura
Figure Class

1 Mindi Smith
2 Amy ONeil
3 Rosa-Maria Romero
4 Felicia Romero
5 Jodie Minear
6 Angela Terlesky
7 Listy Allen
8 Linda Fodor-Egelstig
9 Crystal Chiles
10 Taylor Waldrop
11 Sabrina Gibson
12 Mendi Sakamoto
13 Ann Titone
14 Jaime Meade
15 Kathleen Tesori
16 Karen Mullarkey
17 Monica Mark-Escalante
18 Lynn Cimmino
19 Lydia Haskell
20 Jennifer Hernandez
21 Debbie Patton
22 Tina White
23 Chaundra Tangi
Fitness Class

1 Julie Palmer
2 Tanji Johnson
3 Camala Rodriguez
4 Oksana Grishina
5 Bridgette Murray-Ward
6 Nita Marquez
7 Yenny Polanco
8 Stefanie Bambrough
Extra Scenes:

Acacia Marquez sings the National Anthem
Promoter Stryker Salman's speeches & interviews
Photo Gallery
Format:
A Wide Screen 16:9 production shot on HDV.
Photographers:
Richard Rossan
Isaac Hinds



Running Time: 173 mins

* Available in NTSC DVD Only (Region Free)
* THIS DVD WILL PLAY ON ANY DUAL SYSTEM NTSC / PAL DVD PLAYER AND TV. Or any PC DVD.