Details: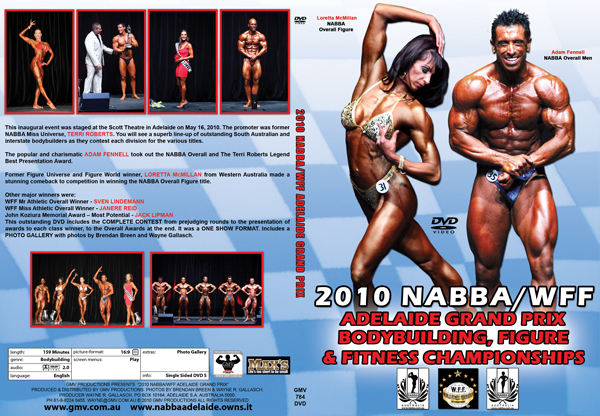 2010 NABBA/WFF ADELAIDE GRAND PRIX BODYBUILDING, FIGURE AND FITNESS CHAMPIONSHIPS
This was Terri Robert's first outing as a show promoter, and she showed she definitely has what it takes. This inaugural event was spectacular to say the least in its format and presentation, and it was only outshone by the superlative condition of the lineup. Rarely have we seen such an array of stars on an Adelaide stage. The cream of the South Australian bodybuilding community took to the stage, and mixed it up with the likes of Loretta McMillan who made a comeback to end all comebacks.
2010 NABBA/WFF Adelaide GrandPrix Results:
Adelaide May 16, 2010
WFF Athletic Teenage
1. Myles Fauser
2. Matthew Andjelkovic
NABBA Junior
1. Jack Lipman
NABBA Masters Figure Over 35
1. Debbie Dunkley
WFF Masters Figure Over 40
1. Janelle McLean
2. Brigitte Lauer
WFF Miss Glamour
1. Emma Verlato
2. Rebecca Wallis
WFF Masters Men Over 35
1. Wayne Wilson
2. Warwick Williams
NABBA Miss Physique
1. Lisa Moreland
2. Nickie Ware
NABBA Novice Men
1. Justin Eming
2. Adam Wilson
WFF Mr Athletic Class 3

1. Sven Lindemann
2. Carl Hicks
WFF Mr Athletic Class 2
1. Ryan Samarzia
NABBA Masters Men Over 40
1. Blair Loveday
2. Rick Zerella
3. John Philips
WFF Miss Athletic Class 1

1. Janere Reid
2. Georgia Holton
3. Rachel Mountford
NABBA Figure Novice
1. Sue Raynor
NABBA Figure Class 2

1. Loretta McMillan
2. Susan Stringer
3. Indah Sanny
NABBA Figure Class 1
1. Alison Moyle
NABBA Men's Class 3
1. Bill Cairns
NABBA Men's Class 2
1. Adam Fennell
WFF Mr Athletic Overall Winner
Sven Lindemann
WFF Miss Athletic Overall Winner
Janere Reid
NABBA Figure Overall Winner
Loretta McMillan
NABBA Men's Overall Winner
Adam Fennell
John Koziura Memorial Award – Most Potential
Jack Lipman
Terri Roberts Legend Award – Best Presentation
Adam Fennell

Running Time: 159 mins

* Available in NTSC DVD Only (Region Free)
* THIS DVD WILL PLAY ON ANY DUAL SYSTEM NTSC / PAL DVD PLAYER AND TV. Or any PC DVD.