Details: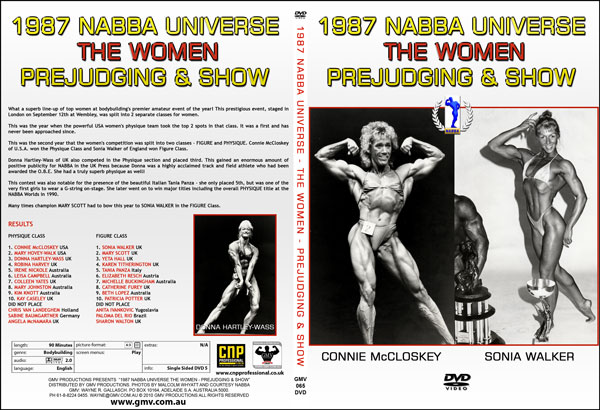 1987 NABBA UNIVERSE: THE WOMEN - PREJUDGING & SHOW
What a superb line-up of top women at bodybuilding's premier amateur event of the year!! This prestigious event, staged in London on September 12th at Wembley, was split into 2 separate classes for women.
For the first time in NABBA history the Professional Class was held on a separate day at a different venue to the 1987 NABBA Amateur Universe. This year the 1987 NABBA Professional Mr. Universe contest was held in Yorkshire, northern England. That date was 26th September, 2 weeks after the NABBA Amateur Mr & Miss Universe.
This was the year when the powerful USA women's physique team took the top 2 spots in that class. It was a first and has never been approached since.
This was the second year that the women's competition was split into two classes - FIGURE and PHYSIQUE. Connie McCloskey of U.S.A. won the Physique Class and Sonia Walker of England won Figure Class.

Donna Hartley-Wass of UK also competed in the Physique section and placed third. This gained an enormous amount of positive publicity for NABBA in the UK Press because Donna was a highly acclaimed track and field athlete who had been awarded the O.B.E. She had a truly superb physique as well!!
This contest was also notable for the presence of the beautiful Italian Tania Panza - she only placed 5th, but was one of the very first girls to wear a G-string on-stage. She later went on to win major titles including the overall PHYSIQUE title at the NABBA Worlds in 1990.
COMPLETE WOMEN'S RESULTS:
PHYSIQUE CLASS
1. CONNIE McCLOSKEY USA
2. MARY HOVEY-WALK USA
3. DONNA HARTLEY-WASS UK
4. ROBINA HARVEY UK
5. IRENE NICKOLE Australia
6. LEISA CAMPBELL Australia
7. COLLEEN YATES UK
8. MARY JOHNSTON Australia
9. KIM KNOTT Australia
10. KAY CASELEY UK
NP
CHRIS VAN LANDEGHEM Holland
SABINE BAUMGARTNER Germany
ANGELA McNAMARA UK
FIGURE CLASS
1. SONIA WALKER UK
2. MARY SCOTT UK
3. YETA HALL UK
4. KAREN TITHERINGTON UK
5. TANIA PANZA Italy
6. ELIZABETH RESCH Austria
7. MICHELLE BUCKINGHAM Australia
8. CATHERINE FUREY UK
9. BETH LOPEZ Australia
10. PATRICIA POTTER UK
NP
ANITA IVANKOVIC Yugoslavia
PALOMA DEL RIO Brazil
SHARON WALTON UK

Running Time: 95 mins

* Available in NTSC DVD Only (Region Free)
* THIS DVD WILL PLAY ON ANY DUAL SYSTEM NTSC / PAL DVD PLAYER AND TV. Or any PC DVD.