Details: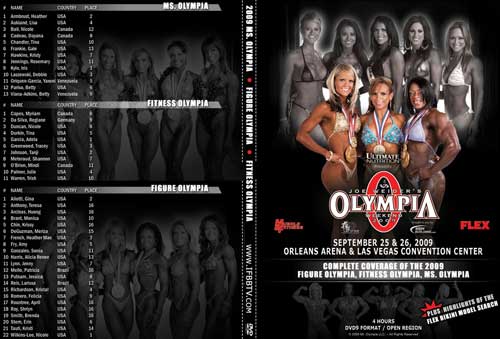 2009 Olympia Women's DVD
The 2009 Olympia Women's Events were staged over Friday and Saturday this year. There were 3 classes as usual for the women from Bodybuilding to Figure and Fitness. See the Fabulous Females of the Olympia all in one package! The DVD will include the powerful and feminine bodybuilding competitors in the Ms. Olympia contest, the incredibly athletic routines of the Fitness Olympia, the sensational physiques and dazzling charm of the Figure Olympia, and the return of the FLEX Magazine Bikini Model Search. ALL contained on one incredible DVD of top professional quality lasting almost four hours.
Order yours today and receive this action-packed DVD packed with almost four-hours of muscle mayhem! Backstage, onstage, special footage not seen on the webcast, interviews and more will make this an outstanding DVD for your home full-screen viewing! The Pump Room footage is exclusive to this DVD.
2009 Ms Olympia Final Placings:
1. Iris Kyle
2. Heather Armbrust
3. Debi Laszewski
4. Lisa Aukland
5. Yaxeni Oriquen-Garcia
6. Betty Pariso
7. Kristy Hawkins
8. Dayana Cadeau
9. Betty Viana-Adkins
10. Tina Chandler
11. Rosemary Jennings
12. Nicole Ball
13. Gale Frankie
2009 Figure Olympia Final Placings
1. Nicole Wilkins-Lee
2. Gina Aliotti
3. Heather Mae French
4. Krystal Richardson
5. Amy Fry
6. Erin Stern
7. Jenny Lynn
8. Jessica Paxson-Putnam
9. Felicia Romero
10. Monica Brant
11. Sonia Gonzales
12. Larissa Reis
13. Alicia Marie Harris
14. Kristi Tauti
15. Meriza DeGuzman
16. Teresa Anthony
16. Houng Arcinas
16. Krissy Chin
16. Patricia Mello
16. April Rountree
16. Sherlyn Roy
16. Brenda Marie-Smith
2009 Fitness Olympia Final Placings
1. Adela Garcia
2. Tanji Johnson
3. Tracey Greenwood
4. Julie Palmer
5. Tina Durkin
6. Myriam Capes
7. Shannon Meteraud
8. Nicole Duncan
9. Regiane Da Silva
10. Trish Warren
11. Mindi O'Brien
2009 Bikini Model Final Placings
1. Amanda Latona
2. Mary Jarmolawich
3. Tianna Ta
4. Michell Goulet
5. Shannon Rockweiler
6. Tatum Miranda
7. Lauren Rush
8. Natalia Muntean
9. Krissy Richards
10. Fernanda Rocha
11. Katie Barnes
12. Ashley Zito
13. Tiffany Radzwill
14. Lindsay Huber
15. Deborah Cochrell
16. Kelly Willis



Running Time: 240 mins

* Available in NTSC DVD Only (Region Free)
* THIS DVD WILL PLAY ON ANY DUAL SYSTEM NTSC / PAL DVD PLAYER AND TV. Or any PC DVD.