Details: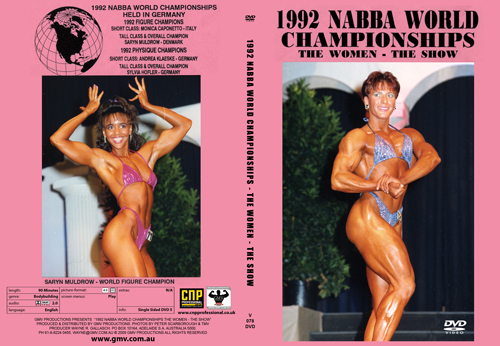 1992 NABBA World Championships: The Women - The Show
Held in Wetzlar, Germany on June 20th, 1992, the Women's event was of exceptional standard with 2 classes each for Figure and Physique. It was the best women's line-up seen in years. This DVD also includes the PAIRS.
FIGURE
Italian MONICA CAPONETTO took out the SHORT CLASS FIGURE title, improving on her 4th place at last year's Universe of 1991. She overcame 3 very competitive German figure stars to achieve her goal.
In the TALL FIGURE CLASS, Australia's own champion, the glamorous SAMI RENOUF was hot on the heels of the eventual overall Figure winner - the beautiful and shapely SARYN MULDROW. Saryn had a most innovative and entertaining routine to show off her long, long perfectly sculptured legs and gorgeous figure at its very best. Saryn is pictured rear cover above.
In the OVERALL POSEDOWN, it was a very strong showing from SARYN MULDROW that saw her take a well earned victory over MONICA CAPONETTO. Saryn later went on to win the 1996 Fitness Olympia title.
PHYSIQUE
The 2 physique classes boasted their strongest ever lineups. A battle royal took place in the PHYSIQUE SHORT CLASS 2 between ANDREA KLAESKE of Germany, and Australia's DEBORAH COMPTON. Deborah had the best back and triceps in the whole contest and improved as the day went on. Andrea was the most ripped competitor with excellent overall balance and symmetry. Andrea is an Ellen van Maris look-alike and got the nod from the judges over Deborah for the title, in a very close finish.
In the Tall PHYSIQUE CLASS 1, it was a very close fought thing with victory to SYLVIA HOEFLER, pictured front cover, by one point over Italy's CINZIA CAMPEIS. Sylvia was quite a star in that she won the IFBB World Junior Heavyweight title in 1989, then took a break from competition before switching to the NABBA ranks earlier in the year. Sylvia had the biggest and best shaped legs seen in a long time, and the separation in her thighs was unbelievable! Topped off by awesome delts and arms, and a very broad back, the strikingly lovely and feminine Sylvia grabbed the class title from the equally outstanding CINZIA CAMPEIS.
Cinzia was also runner up in the 1991 NABBA Universe Tall Class 1. Her super ripped physique is destined for well deserved top honours in the very near future.
PAIRS
There were 4 excellent couples entered in the mixed Pairs competition. The winners were Ute Geisel and George Uhlich from Germany. Ute was the 1991 NABBA Miss Universe Physique Class champion. Please click here for GMV-140DVD to see her winning this Overall Universe title.

In the OVERALL POSEDOWN for the title of Women's World Physique Champion, it was the 21 year old German prodigy SYLVIA HOEFLER from the Tall Class who prevailed over short class winner ANDREA KLAESKE in an all German affair. If ever Germany had a potential winner for the title of Ms. Olympia, then one need look no further than Sylvia! This is an outstanding 90 mins DVD which is the only record of the women from this contest. The Prejudging was not recorded for sale on video.
1992 NABBA WORLD CHAMPIONSHIPS RESULTS:
June 20th, 1992 Wetzlar, Germany
THE WOMEN
OVERALL MISS PHYSIQUE: Sylvia Hoefler - Germany
MISS PHYSIQUE CLASS 2
1.Andrea Klaeske - Germany
2. Deborah Compton - Australia
3. Susanne Kiersling - Germany
4. Susanne Kamm - Germany
5. Martine Keersmaeckers - Holland
6. Paolo Di Pinto - Italy
7. Elena Mamutenko - Ukraine
8. Ann Van Roeyen - Holland
9. Sharina Martys - Belgium
MISS PHYSIQUE CLASS 1
1. Sylvia Hoefler - Germany
2. Cinzia Campeis - Italy
3. Renate Neubauer - Germany
4. Elke Poter - Holland
5. Bev Hahn - UK
6. Marie-Jose Fischer - Germany
7. Vera Bendel - Germany
8. Brigitte Galle - Germany
NP
Karin Veit - Germany
Rina Howard - South Africa
OVERALL MISS FIGURE: Saryn Muldrow - Denmark
MISS FIGURE CLASS 2
1. Monica Caponetto - Italy
2. Marion Klappert - Holland
3. Petro Sando - Italy
4. Manuela Franz - Germany
5. Mugliette Brossault - France
6. Tatiana Kovalko - Russia
7. Janette Halstead - UK
8. Isabelle Van Der Stuyf - Holland
NP
Svetlana Lomachenskaya - Russia
Sabine Neumann - Germany
MISS FIGURE CLASS 1
1. Saryn Muldrow - Denmark
2. Sami Renouf - Australia
3. Vera Hesse - Germany
4. Anna Maria Onofrio - Italy
5. Brenda Bond - UK
6. Kathy Wilkie - UK
7. Magitta Paul - France
8. Anna Lovelock - UK
NP
Petra Jung - Germany
Claudia Hinum - Austria
Gisele Bedin - France
Sabine Bless - Germany
Jennifer Pieters - South Africa
PAIRS
1. Ute Geisel & George Uhlich - Germany
2. Marie Jose Fischer & Camara Ousman - France
3. Vera & Willi Bendel - Germany
4. Petra Jung & Konstantin Heidelberger - Germany

Running Time: 90 mins

* Available in NTSC DVD Only (Region Free)
* THIS DVD WILL PLAY ON ANY DUAL SYSTEM NTSC / PAL DVD PLAYER AND TV. Or any PC DVD.