Details: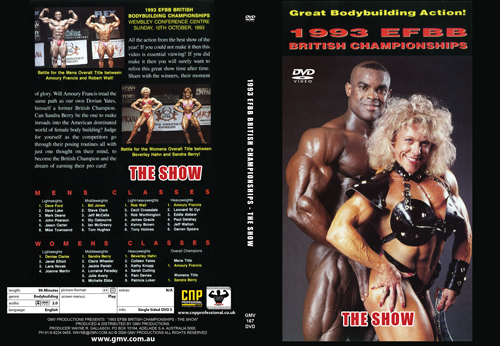 1993 EFBB British Championships - The Show

See all of the action from the biggest EFBB (IFBB) show of the year. Held at the famous Wembley Conference Centre, London on Sunday 10th October, 1993 and shot by Wayne and his GMV crew. Wembley is the home of British bodybuilding and saw the 1982 Mr. Olympia trophy presented to Chris Dickerson on this very same stage.

Share with the various winners their moment of glory in this presentation of the evening show at the 1993 EFBB British Bodybuilding Championships. The DVD includes all of the show posing routines in all classes for men and women, the class awards and the 2 Overall Posedowns. Judge for yourself who you feel were the winners and runners up as the competitors fight for the 2 Pro Cards in the thrilling Overall Posedowns.

One of the highlights was the raunchy guest posing routine presented by the Women's 1992 Overall Winner, Kimberley-Anne Jones. This Show DVD is 96 mins long.

Please click here for the PREJUDGING DVD from this event, PCB-166DVD.

See RESULTS below.
Front Cover: Amoury Francis is pictured with special guest poser Kimberley-Anne Jones. Cover design by Weider Health & Fitness. A young Eddie Abbew will be seen in this DVD. He is presently competing as a top IFBB Pro.

TOP 6 RESULTS ALL CLASSES:

THE MEN

OVERALL EFBB BRITISH MEN'S CHAMPION: Amoury Francis.

LIGHTWEIGHT CLASS
1. Dave Ford
2. Dave Lake
3. Mark Deane
4. John Pearson
5. Jason Carter
6. Mike Townsend

MIDDEWEIGHT CLASS
1. Billy Jones
2. Steve Clark
3. Jeff McCalla
4. Sly Osbourne
5. Ian McGreavy
6. Tom Hughes

LIGHT-HEAVYWEIGHT CLASS
1. Robert Wall
2. Cecil Croasdale
3. Rob Worthington
4. James Gracie
5. Kenny Brown
6. Tony Holmes

HEAVYWEIGHT CLASS
1. Amoury Francis
2. Leonard St. Cyr
3. Eddie Abbew
4. Paul Delahay
5. Jeff walton
6. Darren Spears

THE WOMEN

OVERALL EFBB BRITISH WOMEN'S CHAMPION: Sandra Berry.

LIGHTWEIGHT CLASS
1. Denise Clarke
2. Janet Elliott
3. Lana Novak
4. Joanne Martin

MIDDLEWEIGHT CLASS
1. Sandra Berry
2. Claire Wheeler
3. Jackie Parish
4. Lorraine Faraday
5. Julie Avery
6. Michelle Ebbs

HEAVYWEIGHT CLASS
1. Beverley Hahn
2. Colleen Yates
3. Kathy Knopp
4. Sarah Cutting
5. Pam Davies
6. Patricia Loker

Running Time: 96 mins

* Available in NTSC DVD Only (Region Free)
* THIS DVD WILL PLAY ON ANY DUAL SYSTEM NTSC / PAL DVD PLAYER AND TV. Or any PC DVD.