Details: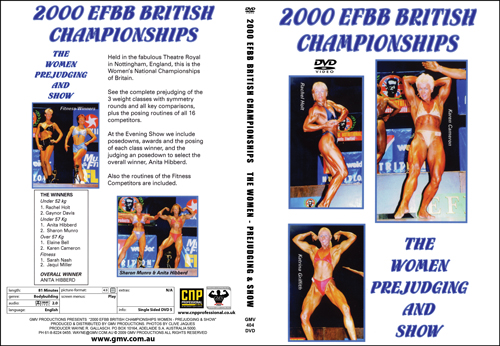 2000 EFBB British Championships: Women - Prejudging and Show
Held in the fabulous Theatre Royal in Nottingham, England, this is the Women's National EFBB (IFBB) Championships of Britain. This is a huge, prestigious theatre where many past English Grand Prix have been staged. It is still the home of the British Championships today, run by the UKBFF.

See the complete prejudging of the three weight classes with symmetry rounds and all key comparisons, plus the posing routines of all 16 competitors.
At the Evening Show, we include posedowns, awards and the posing of each class winner, and the judging and posedown to select the overall winner, Anita Hibberd.
Also the dynamic routines of the Fitness Competitors are included.

2000 EFBB British Championships:
THE WOMEN'S RESULTS:
OVERALL CHAMPION: Anita Hibberd
FITNESS
1. Sarah Nash
2. Jacqui Miller
UNDER 52KG CLASS
1. Rachel Holt
2. Gaynor Davies
3. Katrina Griffith
4. Lisa Young
UNDER 57KG CLASS
1. Anita Hibberd
2. Sharon Munro
OVER 57KG CLASS
1. Elaine Bell
2. Karen Cameron
3. Angela Grimmer
4. Jackie Young
5. Dawn Sutherland
6. Sarah Bridges
NP
Christie Bunce
Leica Gelsei

Running Time: 85 mins

* Available in NTSC DVD Only (Region Free)
* THIS DVD WILL PLAY ON ANY DUAL SYSTEM NTSC / PAL DVD PLAYER AND TV. Or any PC DVD.