Details: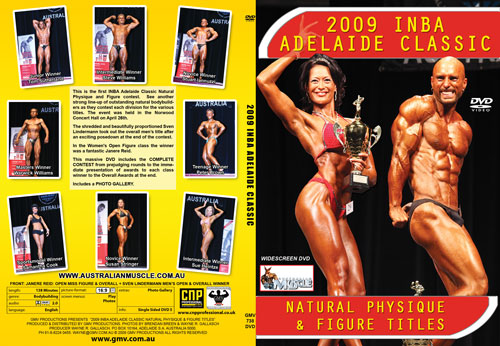 2009 INBA Adelaide Classic Natural Physique & Figure Titles
This is the first INBA Adelaide Classic Natural Physique and Figure contest. See another strong line-up of outstanding natural bodybuilders as they contest each division for the various titles. The event was held in the Norwood Concert Hall on April 26th.
The shredded and beautifully proportioned SVEN LINDERMANN took out the OVERALL men's title after an exciting posedown at the end of the contest.
In the Women's Open Figure class the winner was a fantastic JANERE REID who edged out a very determined and experienced Alison Moyle. WARRICK WILLIAMS took out the Masters Division. All class winners were outstanding. Janere and Sven are both pictured front cover above.
This massive DVD includes the COMPLETE CONTEST from prejudging rounds to the immediate presentation of awards to each class winner, to the Overall Awards at the end.
Includes a PHOTO GALLERY with photos by Brendan Breen.
COMPLETE RESULTS:
Teenage
1st Peter Brown
Junior
1st Tom Sutherland
2nd Paul Reeves
Men's Novice
1st Stuart Iannuzzi
2nd Paul Cocks
3rd Anthony Crouch
4th David Schulze
5th Andy Steer
Women's Novice

1st Susan Stringer
2nd Danielle Morris
3rd Nadia Robertson
Men's Intermediate
1st Steve Williams
2nd Matthew Window
3rd Brian Warneke
4th Gerry McCuish
5th Kym Papadimitrioulis
6th Curtis Crawford
Sportmodel
1st Samantha Cook
2nd Caralyn Pedler
Women's Intermediate
1st Sue Heintze
2nd Debbie Dunkley
3rd Becky Alkermade
Men's Masters
1st Warwick Williams
2nd Phil Peake
3rd Peter Slater
Open Ms Figure
1st Janere Reid
2nd Alison Moyle
3rd Vicki Sauerwald
Men's Open
1st Sven Lindermann
2nd John Ntovellos
3rd Glenn Gattellaro
4th Sean Pualic

Running Time: 138 mins

* Available in NTSC DVD Only (Region Free)
* THIS DVD WILL PLAY ON ANY DUAL SYSTEM NTSC / PAL DVD PLAYER AND TV. Or any PC DVD.