Details: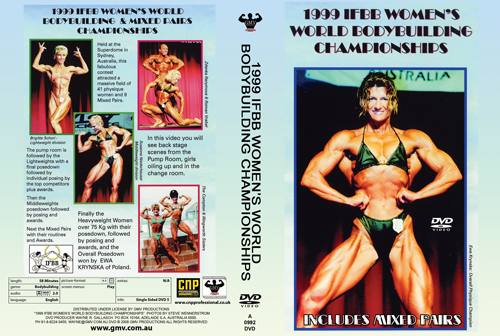 1999 IFBB WOMEN'S WORLD BODYBUILDING & MIXED PAIRS CHAMPIONSHIPS
The best amateur bodybuilding women in the world converged in Sydney to contest this event. The Eastern European countries certainly made their presence felt - and gave the traditional bodybuilding strongholds a run for their money. Includes the Mixed Pairs event as well.
Lisa Aukland was the highest placed American with her second place in the Heavyweights. Lisa is now a top competitor in the Ms Olympia and Arnold Ms. International each year.

RESULTS:

Lightweight (Under 52 Kg)
1. Brigitte Schori Switzerland
2. Natalia Proskouriakova Russia
3. Fannes Gerda Belgium
4. Antonina Sabella Italy
5. Katherine Illingworth Australia
6. Vlasta Kacafirkova Czech Republic

Middleweight (Under 57 Kg)
1. Julia Stefanovitch Russia
2. Susanne Niederhauser Austria
3. Irina Muntean Romania
4. Marja-Leena Lehtonen Finland
5. Claudia Klumaier Austria
6. Tulay Ozbek Turkey

Heavyweight (Over 57 Kg)
1. Ewa Krynska Poland
2. Lisa Aukland USA
3. Zdenka Razymova Czech Republic
4. Debra Compton Australia
5. Annett Wittig Germany
6. Miriam Peschlova Slovakia

Mixed Pairs
1. P. Brzozka/E. Krynska Poland
2. Z.Razymova/R. Vrabel Czech Republic
3. M. Peschlova/J. Vrabel Slovakia
4. T. Ozbek/V. Ozbek Turkey
5. I. Muntean/I. Orian Romania

Running Time: 60 mins

* Available in NTSC DVD Only (Region Free)
* THIS DVD WILL PLAY ON ANY DUAL SYSTEM NTSC / PAL DVD PLAYER AND TV. Or any PC DVD.