Details: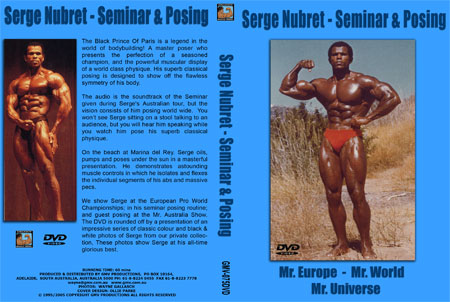 Serge Nubret - Seminar and Posing

The Black Prince Of Paris: Mr. Europe - Mr. World - Mr. Universe. Nubret is a legend in the world of bodybuilding! A master poser who presents the perfection of a seasoned champion, and the powerful muscular display of a world class physique. His superb classical posing is designed to show off the flawless symmetry and beauty of his body. Truly one of the all time legends of bodybuilding!
The audio is the soundtrack of the Seminar given during Serge's Australian tour, but the vision consists of him posing world wide. You will hear Nubret speak of his many years of experience and share his secrets while at the same time, you watch him oiling, pumping and posing in a masterful presentation.
Serge demonstrates astounding muscle controls in which he isolates and flexes the individual segments of his abs and massive pecs. Also included is Serge's convincing win at the European Pro World Championships. This is followed by seminar posing and guest posing at the Mr. Australia Show. The entire video is rounded off by a presentation of an impressive series of classic colour and black & white photos of Serge from our private collection - most of which have never been published. These photos show Serge at his all-time glorious best.
In 1975, Nubret placed second to Arnold Schwarzenegger in the Mr. Olympia - today he is guest posing for you!!

Running Time: 60 mins

* Available in NTSC DVD Only (Region Free)
* THIS DVD WILL PLAY ON ANY DUAL SYSTEM NTSC / PAL DVD PLAYER AND TV. Or any PC DVD.