Details: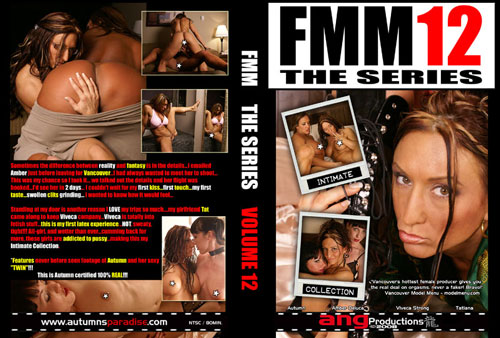 FMM 12 - The Series Vol 12
CAUTION: You must over 18 to purchase this DVD as it contains content of an adult nature.

Sometimes the difference between reality and fantasy is in the details. I emailed Amber just before leaving for Vancouver. I had always wanted to meet her to shoot and this was my chance so I took it. We talked out the details and her flight was booked, I'd see her in 2 days. I couldn't wait for my first kiss...first touch...my first taste. I wanted to know how it would feel.
Standing at my door is another reason why I LOVE my trips so much. My girlfriend Tat came along to keep Viveca company. Viveca is totally into fetish stuff making this my first latex experience. It is HOT, sweaty, tight!!! All-girl sweaty action making this my very special Intimate Collection.

This DVD is HOT! HOT! HOT!

DVD PACKING
All our DVDs are sent in the plain white padded bags marked as GIFT. Hand addressed and with no GAMM logos or stickers on them. We always keep our packaging as low profile as possible to help ensure your privacy.

Running Time: 80 mins

* Available in NTSC DVD Only (Region Free)
* THIS DVD WILL PLAY ON ANY DUAL SYSTEM NTSC / PAL DVD PLAYER AND TV. Or any PC DVD.