Details: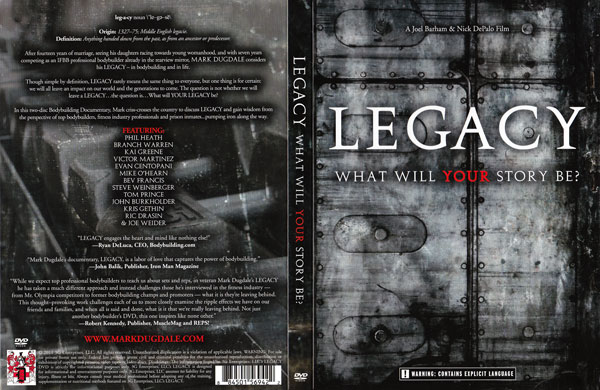 Mark Dugdale - Legacy
In this 2-disk documentary, Mark Dugdale criss crosses USA to discuss LEGACY and gain wisdom from the perspective of top bodybuilders, and fitness industry professionals.... pumping iron along the way.
This insightful story features: Phil heath, Branch Warren, Kai Greene, Victor Martinez, Evan Centopani, Mike O'hearn, Bev Francis, Steve Weinberger, Tom Prince, John Burkholder, Kris Gethin, Ric Drasin, and Joe Weider.
Disc 2 - Bonus disc includes the seminar at the Monroe Correctional Facillity, and workouts as follows:
Legs - Evan and Mark
Arms - Christina and Mark
Back & Arms - KRis & Mark
Legs - Mike & Mark
Chest, Back and Arms - Phil & Mark
Back - Victor & Mark
Legs - Kris & Mark
Shoulders - Kris, Branch & Mark
Full Body Circuit - Mark



Running Time: 265 mins

* Available in NTSC DVD Only (Region Free)
* THIS DVD WILL PLAY ON ANY DUAL SYSTEM NTSC / PAL DVD PLAYER AND TV. Or any PC DVD.