Details: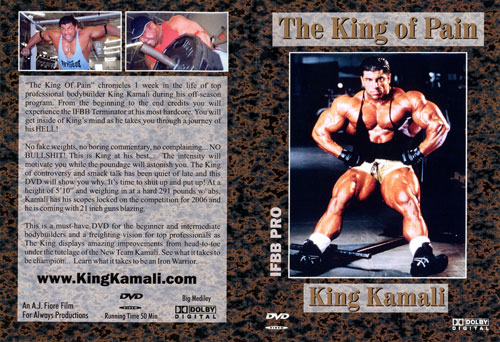 King Kamali - King of Pain
"The King of Pain" DVD chronicles one week in the life of top professional bodybuilder KING KAMALI during his off-season program. From the beginning to the end credits, you will experience the IFBB Terminator at his hardcore best. You will get inside of King's mind as he takes you through a journey to his own HELL!
No fake weights, no boring commentary, no complaining... NO BULL! This is the King at his best. The intensity will motivate you while the poundages will astonish you. The King of controversy and smack talk has been quiet of late and this DVD will show you why. It's time to shut up and put up! At a height of 5'10" and weighing in at a hard 291 pounds with great abs, Kamali has his scopes locked on the competition for 2006/2007 and he is coming in with 21 inch guns blazing.
This is a "must-have" DVD for the beginner and intermediate bodybuilders, and a frightening vision for top professionals as the King displays amazing improvements from head-to-toe under the tutelage of the New Team Kamali. See what it takes to be a champion. Learn what it takes to be an Iron Warrior.

See how the world's greatest poser and bodybuilding showman does his thing!

Running Time: 65 mins

* Available in NTSC DVD Only (Region Free)
* THIS DVD WILL PLAY ON ANY DUAL SYSTEM NTSC / PAL DVD PLAYER AND TV. Or any PC DVD.