Details: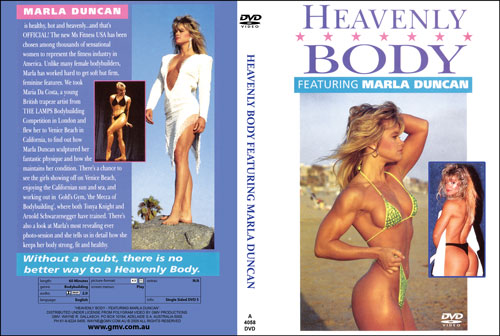 Heavenly Body featuring MARLA DUNCAN

Marla Duncan is beautiful, healthy, hot and heavenly.
The Ms. Fitness USA winner has been chosen among thousands of sensational women to represent the fitness industry in USA.
Unlike many female bodybuilders, Marla has worked hard to get the sculptured, firm, athletic fitness/figure look that is so sought after today.
The DVD also features Maria Da Costa, a young British trapeze artist and super athlete from London who journeyed to Venice Beach, USA to find out how Marla trains. In particular to learn the secrets of how Marla sculptured her fantastic physique and how she maintains her lean condition all year round.
See the women showing off and having fun on Venice Beach and enjoying the Californian sun and surf. You also see them working out in Gold's Gym, the "Mecca of bodybuilding", where all the famous bodybuilders in the world have trained.
There's also a look at Marla's most revealing and provocative photo-shoot. Marla also shares with us her secrets for keeping her body fit, healthy and strong.

Without a doubt, there is no better way to a more HEAVENLY BODY!
Cover photos: Neal Foster.
Distributed under license by GMV Productions.

Running Time: 65 mins

* Available in NTSC DVD Only (Region Free)
* THIS DVD WILL PLAY ON ANY DUAL SYSTEM NTSC / PAL DVD PLAYER AND TV. Or any PC DVD.