Details: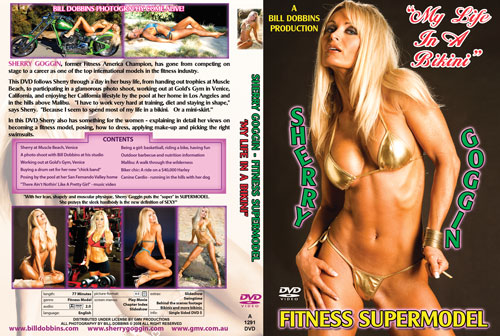 SHERRY GOGGIN - FITNESS SUPERMODEL: "MY LIFE IN A BIKINI"
"Sherry is one of my all-time favorite models. So I wanted her to be among the first fitness women I worked with as I move into making feature-length DVDs." - Bill Dobbins.
SHERRY GOGGIN, former Fitness America Champion, has gone from competing on stage to a career as one of the top international models in the fitness industry.
This DVD follows Sherry through a day in her busy life, from handing out trophies at Muscle Beach, to participating in a glamorous photo shoot, working out at Gold's Gym in Venice, California, and enjoying her California lifestyle by the pool at her come in Los Angeles and in the hills above Malibu. "I have to work very hard at training, diet and staying in shape," says Sherry. "Because I seem to spend most of my life in a bikini. Or a mini-skirt." Of course, given the kind of bikinis that Sherry normally poses in, she jokes she can carry six or seven outfits to a job in a very small purse.
Along with providing plenty of eye-candy for the men, in this DVD Sherry also has something for the women - explaining in detail her views on how to become a fitness model, all about posing, knowing how to dress, applying make-up and picking the right swimsuits to fit your particular body type.
"With her lean, shapely and muscular physique, Sherry Goggin puts the "super" in SUPERMODEL. She proves the sleek hardbody is the new definition of SEXY."
The subject of hundreds of magazine covers and photo shoots, this is Sherry's first full-length DVD.
Contents of the DVD seen in this order:
Sherry at Muscle Beach, Venice
A photo shoot with Bill Dobbins at his studio
Working out at Gold's Gym, Venice
Buying a drum set for her new "chick band"
Posing by the pool at her San Fernando Valley home
"There Ain't Nothin' Like A Pretty Girl" - music video
Being a girl: basketball, riding a bike, having fun
Outdoor barbecue and nutrition information
Malibu: A walk through the wilderness
Biker chic: A ride on a $40,000 Harley
Canine Cardio - running in the hills with her dog
Photos and videography by:
Bill Dobbins (SEE BRIEF BIO ON BILL BELOW)
Extra Scenes:
Extended credit sequences
...swingtime
...behind the scenes footage
...bikinis and more bikinis

PLUS BONUS SLIDESHOW
Bill Dobbins is known to most of his fans as the leading photographer of women bodybuilders and female muscle. But in addition to this specialty, he has also accumulated vast experience shooting pictures for magazines and newspapers, is accomplished in photographing the male body, celebrities, fashion, traditional female glamour, sports, automobile and motorcycle racing and has a flourishing business in designing ads and shooting photos for a variety of advertising clients. Bill Dobbins' photos can be found in publications all around the world, including the United States, Canada, Britain, Germany, Spain, the Czech Republic, Poland, South Africa, Japan and elsewhere.
Bill has also produced 2 classic books on Women's Bodybuilding: "MODERN AMAZONS" and "THE WOMEN".



Running Time: 85 mins

* Available in NTSC DVD Only (Region Free)
* THIS DVD WILL PLAY ON ANY DUAL SYSTEM NTSC / PAL DVD PLAYER AND TV. Or any PC DVD.