Details: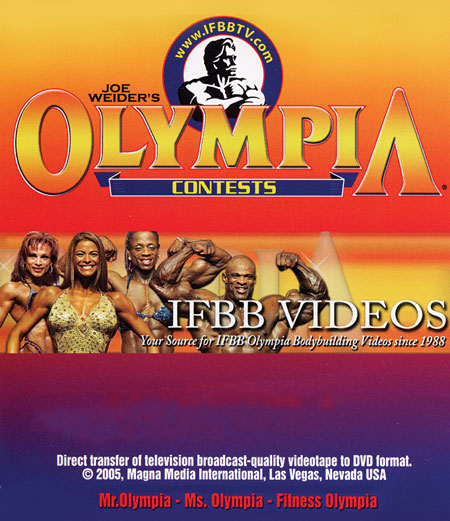 1998 Fitness Olympia & Ms. Olympia (Historic DVD)

"The Olympia Ladies Take Europe" by storm. You'll see both the Ms. Olympia contest in Prague and the Fitness Olympia in Nice in a single, 85-minute DVD. MONICA BRANT WINS HER FIRST Fitness Olympia title.

Highlights of all routines, the bikini round and the one-piece round, and interviews set against the sparkling Meditteranean sea. Monica Brant (1), Susan Curry (2), Mary Yockey (3), Saryn Muldrow (4), Lena Johannesen (5), Timea Majorova (6), Debby Stern (7), Carmen Moreno (8), Tina San Antonio (9), Jennifer Worth (10) plus Alexandra Beres, Stacy Simons, Claire Hillman, Chisato Mishima, Simonetta Rebecchi, Marietta Zigalova, Christiana Caboni.

KIM CHIZEVSKY TAKES THREE! Unbeatable Kim gets a perfect score in every round. Kim Chizevsky (1), Yolanda Hughes (2), Vickie Gates (3), Lesa Lewis (4), Laura Creavalle (5), Andrulla Blanchette (6), Jitka Harazimova (7), Eva Sukupova (8), Chris Bongiovanni (9), Yaxeni Oriquen (10). Also competed but not shown: Sipka Berska, Dayana Cadeau, Valentina Chepiga, Jackie DeGennaro, Gayle Moher, Beate Drabling, Zdenka Tvrda.
This is an authorized and licensed copy made directly from the broadcast-quality master tape. It does not come with the original video cover information.

Running Time: 85 mins

* Available in NTSC DVD Only (Region Free)
* THIS DVD WILL PLAY ON ANY DUAL SYSTEM NTSC / PAL DVD PLAYER AND TV. Or any PC DVD.