Details: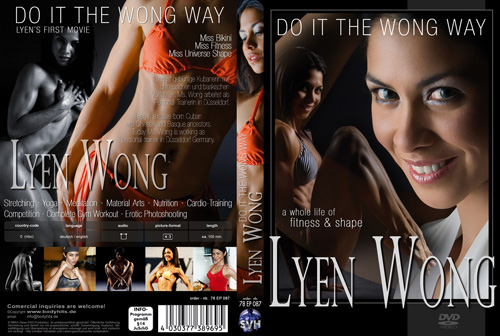 LYEN WONG - Do it the Wong Way
Lyen Wong of Germany is a Miss Bikini, Miss Fitness and Miss Universe Shape winner. Lyen is an exotic beauty with native born Cuban, Chinese and Basque ancestry.
Miss Wong is a personal trainer working in Düsseldorf, Germany where she is in great demand. Lyen has made the main focus in her life her fitness and figure training and competition.
This exciting, entertaining and instructional DVD includes the following:
*Complete Gym Workout
*Erotic Photo Shoot
*Competition
*Martial Arts
*Cardio Training
*Nutrition
*Stretching
*Yoga
*Inspiration!
Weight 57 kg = 125.4 lbs
Biceps:29 cm = 11.4 in
Quads: 54 cm = 21.3 in
Profession: Personal Trainer, Fitness Competitor, Masters degree in English Literature from University of Matanzas
Hobbies: Fitness, bodybuilding, travelling, good food, fotography, modelling, sports, dancing.
Athletic background:
Lyen says - "I was always strong, even as a child. Volleyball was my favourite sport growing up and I have been lifting weights seriously since 1998. Now, it is in my blood. It makes me feel good about myself and helps me relax. I am lucky to be naturally fit, but I still need to work hard and be disciplined to achieve the results I strive towards."
When we asked her what impact fitness/weightlifting has had on her life, she made this point:
"It has made me feel more self-confident and healthy. It was also the starting point for my current profession of Personal Trainer, fitness competitor and fitness model. "
On people's reaction to her physique, she said "I think it is a great thing that women are more and more involved in the field of fitness, but I believe its important for women to stay feminine. When one is able to lift weights seriously and still "be a lady!, this is what most people react to positively, women as well as men."
Lyen's future goals are very important to her: She says "Generally, I like to keep my lean and toned muscles and maintain a healthy weight. My athletic goal is to be in the top 5 at one of the major international fitness contests."
"This is a DVD combining hard defined shapely muscle with raw sex appeal."
The DVD is dual language English and German.



Running Time: 105 mins

* Available in NTSC DVD Only (Region Free)
* THIS DVD WILL PLAY ON ANY DUAL SYSTEM NTSC / PAL DVD PLAYER AND TV. Or any PC DVD.