Details: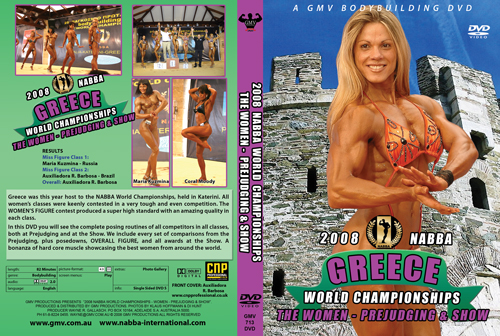 2008 NABBA World Championships: The Women - Prejudging & Show
Greece was this year host to the NABBA World Championships, held at a famous resort at Katerini near Thesaloniki. All women's classes were keenly contested in a very tough and even competition. The women's figure contest produced a super high standard yet again, and amazing quality in each class.
In this DVD you will see the complete posing routines of all competitors in all lasses, both at the Prejudging and at the Show. We include every set of comparisons from the Prejudging, plus posedowns, OVERALL FIGURE, and all awards at the Show. A bonanza of hard core muscle showcasing the best women from around the world.
2008 NABBA WORLD CHAMPIONSHIPS - WOMEN'S RESULTS:
Women's Figure Class 2
1 Auxiliadora R. Barbosa - Brazil
2 Kathryn Mullen - UK
3 Andree Gioanni - France
4 Liudmila Kungurova - Russia
5 Lilian Okubo - Brazil
6 Maria Cordio Vincenza - Italy
Women's Figure Class 1
1 Maria Kuzmina - Russia
2 Ruta Pazarauskaite - Lithuania
3 Coral Moody - Australia
4 Natalia Zhavora - Russia
5 Katerina Kyptova - Czech Rep
6 Helena Joppe - Holland
OVERALL FIGURE CLASS WINNER: Auxiliadora R. Barbosa - Brazil

Running Time: 82 mins

* Available in NTSC DVD Only (Region Free)
* THIS DVD WILL PLAY ON ANY DUAL SYSTEM NTSC / PAL DVD PLAYER AND TV. Or any PC DVD.