Details: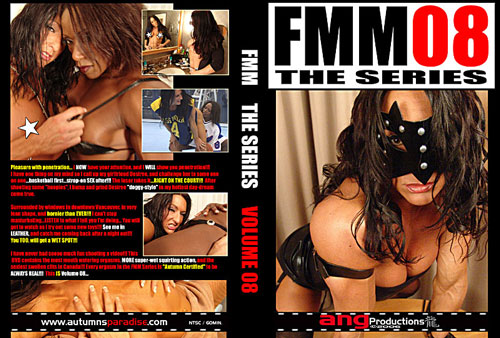 FMM 08 - The Series Vol 8
CAUTION: You must over 18 to purchase this DVD as it contains content of an adult nature.

PLEASURE WITH PAIN...NOW that I have your attention...I WILL show you deep pain!!! I have one thing on my mind so I call up my girlfriend Desiree. I challenge her to some "one on one"...basketball first...STRAP-ON pain after!!! The loser does not get to leave the court!!! After shooting some "hoopies" my HOTTEST day dream comes true. Try not to feel too sorry for Desiree!!!
Surrounded by LOTS of windows in downtown Vancouver, in VERY, VERY LEAN shape and hotter than ever, I am back at it again!!! This time I get to try out some new things!!!
If you like LEATHER, HIGH HEELS AND STOCKINGS this video is a MUST for your collection. Watch me AFTER a night on the town in the big city.
This DVD has it all!!!

This DVD is HOT! HOT! HOT!

DVD PACKING
All our DVDs are sent in the plain white padded bags marked as GIFT. Hand addressed and with no GAMM logos or stickers on them. We always keep our packaging as low profile as possible to help ensure your privacy.

Running Time: 65 mins

* Available in NTSC DVD Only (Region Free)
* THIS DVD WILL PLAY ON ANY DUAL SYSTEM NTSC / PAL DVD PLAYER AND TV. Or any PC DVD.