Details: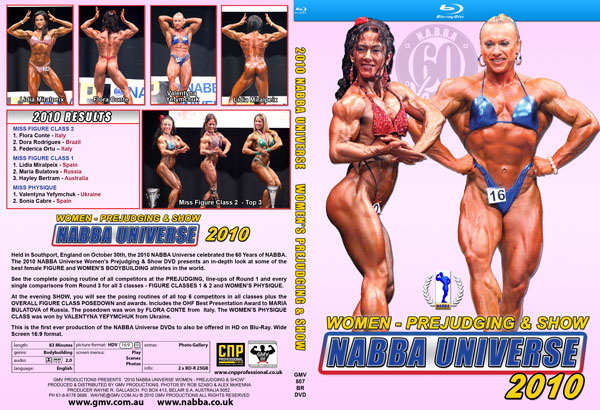 2010 NABBA UNIVERSE: THE WOMEN - PREJUDGING & SHOW - ON BLU-RAY
Held in Southport, England on October 30th, the 2010 NABBA Universe celebrated the 60 Years of NABBA. The 2010 NABBA Universe Women's Prejudging & Show brings you the complete NABBA Universe event for women. This is our FIRST EVER HD RELEASE ON BLU-RAY. Shot in HDV 1080i (1440 x 1080 interlaced).
DISC FORMAT SPECIAL NOTE:

A BLU-RAY DEVICE IS REQUIRED TO PLAY BLU-RAY DISCS. If you do not have a Blu-Ray DVD player (Sony PS3, or a stand-alone Blu-Ray player or Blu-Ray computer disc drive with official Blu-Ray logo), you can not play a Blu-Ray disc. The SD Standard DVD is the format you should order.
This DVD presents an in-depth look at some of the best FIGURE and WOMEN'S PHYSIQUE athletes in the world.
See the complete posing routine of all competitors at the PREJUDGING, line-ups of Round 1 and every single comparisons from Round 3 for all 3 classes - FIGURE CLASSES 1 & 2 and WOMEN'S PHYSIQUE.
At the evening SHOW, you will see the posing routines of all top 6 competitors in all classes, plus the OVERALL FIGURE CLASS POSEDOWN and awards. Includes the OHF Best Presentation Award to MARIA BULATOVA of Russia.
The OVERALL MISS FIGURE UNIVERSE posedown was won by FLORA CONTE - Italy from Class 1 winner Lidia Miralpeix - Spain.
The WOMEN'S PHYSIQUE CLASS was won by VALENTYNA YEFYMCHUK from Ukraine.
To celebrate the 60 years of NABBA, this was our first ever HD PRODUCTION of the NABBA Universe DVDs to also be available on Blu-Ray. Wide Screen 16:9 format.
EXTRA FEATURES:
Huge Photo Gallery
PHOTOGRAPHERS

Rob Szabo
Alex McKenna – The Beef



Running Time: 85 mins

* Available in NTSC DVD Only (Region Free)
* THIS DVD WILL PLAY ON ANY DUAL SYSTEM NTSC / PAL DVD PLAYER AND TV. Or any PC DVD.