Details: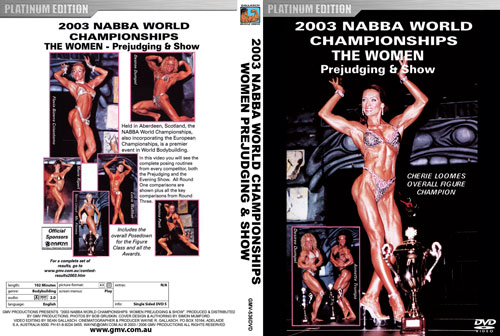 2003 NABBA World Championships: Women's Prejudging & Show
Held in Aberdeen, Scotland, the 2003 NABBA World Championships, also incorporating the European Championships, is a premier event in World Bodybuilding.
In this DVD you will see the complete posing routines from every competitor, both the Prejudging and the Evening Show. All Round One comparisons are shown plus all the key comparisons from Round Three.
Includes the overall Posedown for the Figure Class won by CHERIE LOOMES, and all the Awards.
The women's results are as follows:
MS. FIGURE CLASS 1 TALL
1 Cherie Loomes South Africa
2 Edyta Capriotti Italy
3 Karen Bricklebank UK
4 Victoria Zabourdiaeva Russia
5 Avril Cunliffe Scotland
6 Diane Shipway Australia
7 Marie-Pierre Ripert France
8 Lorraine March Australia
9 Samora Schrejer Holland
DNP: Jalaine Ulsh, Valeria Aprobato, Lynne Harrison
MS FIGURE CLASS 2 SHORT
1 Lorena Bucci Italy
2 Lucie Walther Germany
3 Flavia Crisostomo Brazil
4 Luciane Vieira Brazil
5 Flora Conte Italy
6 Romina Paoli Austria
7 Julie Waite UK
8 Lisa Mann N. Ireland
DNP: Noreen McCullough, Sue White, Angela McCluskey, Inna Bykovska, Elaine Thorpe
OVERALL FIGURE CHAMPION: CHERIE LOOMES
MS. PHYSIQUE
1 Anette Trumpa Germany
2 Desiree Dumpel Holland
3 Galina Podolneva Russia
4 Nathalie Wauts Belgium

Running Time: 102 mins

* Available in NTSC DVD Only (Region Free)
* THIS DVD WILL PLAY ON ANY DUAL SYSTEM NTSC / PAL DVD PLAYER AND TV. Or any PC DVD.