Details: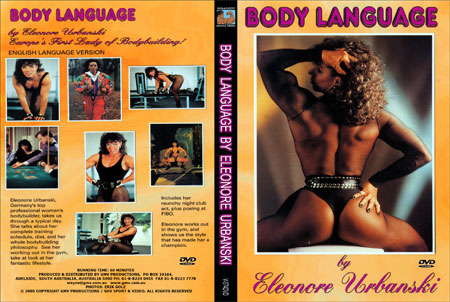 BODY LANGUAGE - ELEONORE URBANSKI

Workout and Posing!
Eleonore Urbanski has been one of Germany's most outstanding physique stars over the last ten years. Winning the German National Championships at her first NABBA Universe and numerous other contests, including the 1990 Ms. Olympia.
Now in her early 30's, Eleonore stands 5' 7" (170 cms) tall, competing at a body weight of 150 lbs. (68 kg). Besides her sporting interests, fashion has always been one of her hobbies and she likes to wear unusual and sexy clothes, some of which she designs herself.
Eleonore is a very strong bodybuilder, and has squatted with 400 lbs (200 kg). She discusses diet (including a recipe for her favourite pancakes), and demonstrates her 4-day workout schedule in the gym. Eleonore is a much sought after guest poser with her raunchy act. We present various posing routines from her first appearance at the NABBA Universe through to her posing at FIBO and also guest posing in a famous night club in Germany.
This video has a full English soundtrack.

Running Time: 65 mins

* Available in NTSC DVD Only (Region Free)
* THIS DVD WILL PLAY ON ANY DUAL SYSTEM NTSC / PAL DVD PLAYER AND TV. Or any PC DVD.