Details: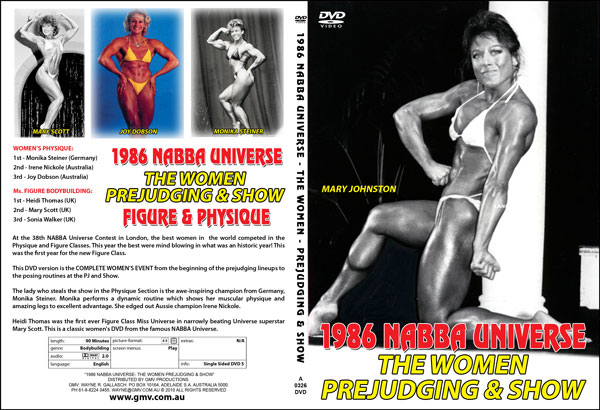 1986 NABBA Universe Women - Prejudging and Show
Figure and Physique Classes. Historic DVD - first ever Universe Figure Class.
At the 38th NABBA Universe Contest, staged in London, the best women bodybuilders from around the world competed for top honours. Each year the women get more massive and symmetrical, and this year the best were mind blowing! This was the first year the new Figure Class had been introduced.

This version produced by Ron Pugh starts off with the prejudging lineup and then the prejudging posing routines.
The lady who steals the show in the Physique Section is the awe-inspiring champion from Germany, Monika Steiner. Monika performs a dynamic routine which shows her muscular physique and huge legs to excellent advantage. She edged out Aussie champion Irene Nickole.
Controversial Australian, Joy Dobson, caused a minor sensation with her huge shoulders, and her sock-it-to-'em routine had the crowd in a frenzy. Heidi Thomas was the first ever Figure Class Miss Universe in narrowly beating Universe superstar Mary Scott. This is a classic women's DVD from the world's oldest competition for men and women.
The Results:
WOMEN'S PHYSIQUE:
1st - Monika Steiner (Germany)
2nd - Irene Nickole (Australia)
3rd - Joy Dobson (Australia)
4th - Mary Johnson (Australia)
5th - Gabrielle Klug (Austria)
6th - Michele Lucas (UK)
7th - Debbie Meller (Australia)
8th - Mandy Curry (UK)
NP
Charae Tassignen
Wendy Tarbat
Ivana Aceti
Michele Buckingham
Ms. FIGURE BODYBUILDING:
1st - Heidi Thomas (UK)
2nd - Mary Scott (UK)
3rd - Sonia Walker (UK)
4th - Lisa Thompson (UK)
5th - Pascale Van Uxem (Belgium)
6th - Elizabeth Reisch (Austria)
7th - Verena Herrstorf
8th - Rose Keogh
NP
Kerry McIntyre
Rosaria Franca

Running Time: 95 mins

* Available in NTSC DVD Only (Region Free)
* THIS DVD WILL PLAY ON ANY DUAL SYSTEM NTSC / PAL DVD PLAYER AND TV. Or any PC DVD.