Details: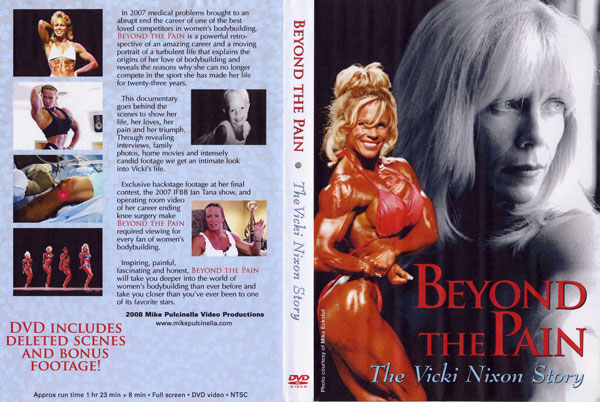 Beyond the Pain - The Vicki Nixon Story
In 2007 medical problems brought to an abrupt end the career of one of the best loved competitors in women's bodybuilding.
BEYOND THE PAIN is a powerful retrospective of an amazing career and a moving portrait of a turbulent life that explains the origins of her love of bodybuilding and reveals the reasons why she can no longer compete in the sport she has made her life for twenty-three years.
This documentary goes behind the scenes to show her life, her loves, her pain and her triumph. Through revealing interviews, family photos, home movies and intensely candid footage we get an intimate look into Vicki's life.
Exclusive backstage footage at her final contest, the 2007 IFBB Jan Tana show, and operating room video of her career ending knee surgery make Beyond the Pain required viewing for every fan of women's bodybuilding.
Inspiring, painful, fascinating and honest, Beyond the Pain will take you deeper into the world of women's bodybuilding than ever before, and take you closer than you've ever been to one of its favorite stars.
This is our tribute to the great VICKI NIXON.
Produced by Mike Pulcinella, brilliant creator of the Raising the Bar series and the Kai Greene DVDs.



Running Time: 95 mins

* Available in NTSC DVD Only (Region Free)
* THIS DVD WILL PLAY ON ANY DUAL SYSTEM NTSC / PAL DVD PLAYER AND TV. Or any PC DVD.