Details: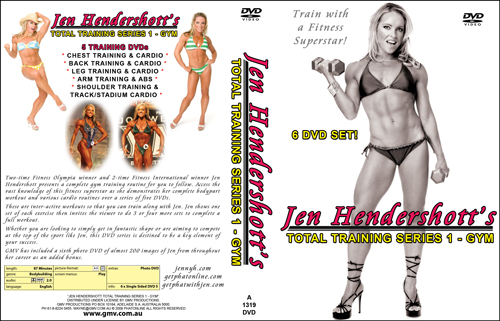 Jen Hendershott's Total Training Series 1 – GYM TRAINING
Two-time Fitness Olympia winner and two-time Fitness International champion (Arnold Classic event) Jen Hendershott presents a completely new gym training series for you to follow. Access the vast knowledge of this fitness superstar as she demonstrates her complete bodypart workout and various cardio routines over a series of five DVDs. In this Series 1, all 5 DVDs are based on training in the gym. Series 2 will be based on doing your training at HOME plus nutrition and recipe explanations and Series 3 will be based on POSING, PRESENTATION & IMPORTANT TIPS.

These are inter-active workouts so that you can train along with Jen. In each DVD, Jen shows one set of each exercise then invites the viewer to do 3 or four more sets to complete a full workout. Each individual DVD may be only 15 to 20 minutes long but due to Jen doing one set, and the viewer perhaps doing another 3 or 4 more sets, the total workout may well be from 60 to 80 minutes long. It is up to each individual how hard they wish to push themselves.

Whether you are looking to simply get in fantastic shape or are aiming to compete at the top of the sport like Jen, this DVD series is destined to be a key element of your success. Jen Hendershott is without doubt the most qualified and successful professional fitness competitor in the world.

PCB has included a FREE BONUS sixth disc PHOTO DVD of almost 200 contest and pump room images of Jen taken by us from throughout her career. Other images were kindly supplied courtesy Jen Hendershott.

The 5 training DVDs as a set in Series 1 are as follows:

* CHEST TRAINING & CARDIO
* BACK TRAINING & CARDIO
* LEG TRAINING & CARDIO
* ARM TRAINING & ABS
* SHOULDER TRAINING &
TRACK/STADIUM CARDIO

95 mins total coaching time by Jen.
BONUS PHOTO DISC #6 - Approx 200 photos. Photos by Wayne Gallasch and studio photos courtesy Jen Hendershott.
NEWS FLASH JUST RECEIVED FROM JEN – August 2009
"The fitness industry has been very good to me. It is time for me to give back. I love working with people who aspire to improve themselves. I will focus on my new supplement company PGN, my training program Get Phat Online, Phat Camp, Get Phat Promotions and the many other projects that I am currently working on. I am not retiring but rather taking some time to work on the many other things that I am passionate about."
Jen has been a competitive fitness athlete for over 12 years. She is the current reigning Fitness Olympia champion and Fitness International Champion for 2009.
Running Time: 95 mins

* Available in NTSC DVD Only (Region Free)
* THIS DVD WILL PLAY ON ANY DUAL SYSTEM NTSC / PAL DVD PLAYER AND TV. Or any PC DVD.