Details: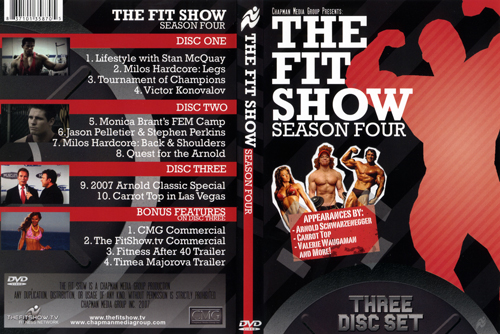 THE FIT SHOW – Season Four: 3 Disc Set
We are proud to present the first ever bodybuilding and fitness series, now available on DVD as a superb 3 DVD set. What' is The Fit Show? It's an Internet TV series devoted to bringing you high impact, entertaining, and informative bodybuilding and fitness content - now on DVD.
It explores all the various facets of weight training through the eyes of various stars such as Milos Sarcev, Stan McQuay, Jason Pelletier and more. The first episode of Season 4 stars legend Milos Sarcev, the man who puts the "HARDCORE" spin on The Fit Show. Milos trains seven guys as they work on their arms . . . Milos style! Milos then takes his hardcore workout up ten notches as he leads his small army of bodybuilders into a workout that pushes their limits to the max.
Join hot young fitness star Jason Pelletier inside Gold's Gym Venice Beach. Then Stephen Perkins takes you through his pre-contest training.
Another huge highlight includes the 2007 Arnold Classic Bodybuilding Championships preview of the pros preparing for the contest, interviews with the competitors, and much more! See a full list of stars and contents below.
This 3 DVD set includes Bonus Features on Disc #3.
CONTENTS:
Disc One
Lifestyle with Stan McQuay
Milos Hardcore: Legs
Tournament of Champions
Victor Konovalov

Disc Two
Monica Brant's FEM Camp
Jason Pelletier & Stephen Perkins
Milos Hardcore: Back & Shoulders
Quest for the Arnold

Disc Three
2007 Arnold Classic Special
Carrot Top in Las Vegas
Bonus Features (on disc three)
CMG commercial
The Fit Show TV commercial
Fitness After 40 Trailer - Shawn Ray
Timea Majorova Trailer



Running Time: 540 mins

* Available in NTSC DVD Only (Region Free)
* THIS DVD WILL PLAY ON ANY DUAL SYSTEM NTSC / PAL DVD PLAYER AND TV. Or any PC DVD.