Details: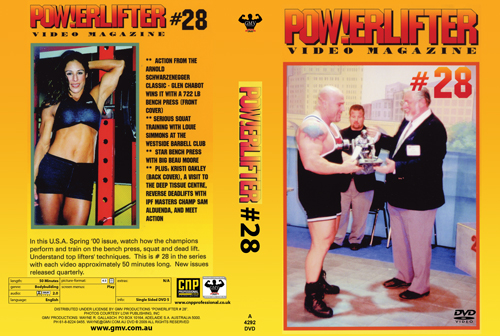 Powerlifter Video Magazine Issue # 28
In this full live action DVD watch how the champions perform and train on the Bench Press, Squat and Deadlift. Understand top lifters' techniques. This is #28 in the super popular series with each DVD around 50-55 minutes in length. This edition features some of the most popular stars and events in powerlifting such as the ARNOLD CLASSIC, GLEN CHABOT, LOUIE SIMMONS, BIG BEAU MOORE, KRISTI OAKLEY and SAM ALUENDA.

Contents:

Action from the Arnold Schwarzenegger Classic - Glen Chabot wins it with a 722lb bench press;
Serious squat training with Louie Simmons at the Westside Barbell Club;
Star bench press with Big Beau Moore;
Plus: Kristi Oakley;
A visit to the deep tissue centre;
Reverse deadlifts with IPF Masters champ Sam Aluenda;
Meet action.

Running Time: 60 mins

* Available in NTSC DVD Only (Region Free)
* THIS DVD WILL PLAY ON ANY DUAL SYSTEM NTSC / PAL DVD PLAYER AND TV. Or any PC DVD.