Details: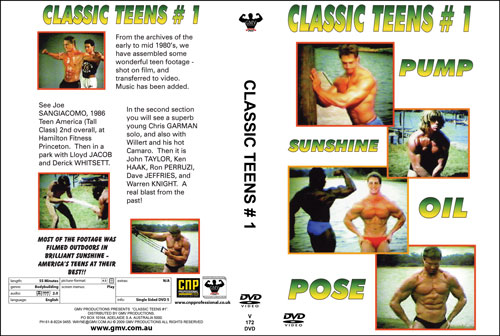 Classic Teens # 1
From the GMV USA archives of the early to mid 1980's, we have assembled some wonderful footage - shot on film, and transferred to video and now released on DVD. Copyright free music has been added.
See Joe SANGIACOMO, 1986 Teen America (Tall Class) 2nd overall, at Hamilton Fitness Princeton. Then posing in a park with Lloyd JACOB and Derrick WHITSETT. Derrick later went on to become an IFBB pro. He tragically died at the age of 37 in January, 2004.
In the second section you will see a superb Chris GARMAN solo, and also with Willert and his hot Camaro. Then it is John TAYLOR, Ken HAAK, Ron PERRUZI, Dave JEFFRIES, and Warren KNIGHT. A real blast from the past, preserved for posterity on DVD!
Most of the footage was filmed outdoors in brilliant sunshine - America's teens at their best!!

Running Time: 60 mins

* Available in NTSC DVD Only (Region Free)
* THIS DVD WILL PLAY ON ANY DUAL SYSTEM NTSC / PAL DVD PLAYER AND TV. Or any PC DVD.