Details: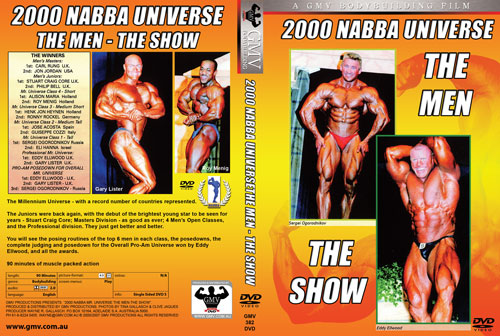 2000 NABBA Universe: The Men - The Show
"The Millennium Universe - with a record number of countries represented."
Held in Southport, the Juniors were back again, with the debut of the brightest young star to be seen for years - Stuart Craig Core; Masters Division - as good as ever; 4 Men's Open Classes, and the Professional division. They just get better and better.
You will see the posing routines of the top 6 men in each class, the posedowns, the complete judging and posedown for the Overall Pro-Am Universe won by Eddy Ellwood, and all the awards. SERGEI OGORODNIKOV of Russia won the overall Amateur Mr Universe title.
Class 3 was particularly interesting. I felt that is was a surprise that RONNY ROCKEL did not win this class. He was in outstanding condition and was beaten by a Dutchman HENK JON HEYNEN. No disrespect to Henk who the judges felt was the better man on the day, but I have not heard much about Henk since that day. On the other hand Ronny has gone on to compete in the Mr Olympia a number of times and has also won the 2006 Australian Pro Grand Prix.

THE RESULTS:
Men's Masters:
1st: CARL RUNG U.K.
2nd: JON JORDAN USA
3rd: MAX PANGERL Austria
4th: GEORGE CHAUMIER Canada
5th: PHILIPPE MERET France
6th: JOHN LEE U.K.
Men's Juniors:
1st: STUART CRAIG CORE U.K.
2nd: PHILIP BELL U.K.
Mr. Universe Class 4 - Short
1st: ALISON MARIA Holland
2nd: ROY MENIG Holland
3rd: PAUL SUTTON U.K.
4th: MOHAMMED BHATTI U.K.
5th: SCOTT RAMDHANI South Africa
6th: DENNIS GIUSTO Italy
Mr. Universe Class 3 - Medium Short
1st: HENK JON HEYNEN Holland
2nd: RONNY ROCKEL Germany
3rd: FABRIZIO FRANCESCHETTI Italy
4th: MANUEL ENRIQUE CUEVAS Spain
5th: TODD HRUBY USA
6th: HAROLD PENNIE U.K.
Mr. Universe Class 2 - Medium Tall
1st: JOSE ACOSTA Spain
2nd: GIUSEPPE COZZI Italy
3rd: STEVE TYLEE U.K.
4th: STEFFEN MULLER Germany
5th: JULIAN CASEY U.K.
6th: PATRICK WARNER U.K.
Mr. Universe Class 1 - Tall
1st: SERGEI OGORODNIKOV Russia
2nd: ELI HANNA Israel
3rd: CHRIS WALL U.K.
4th: ERIC HARTLEY U.K.
5th: KIN MITCHELL Holland
6th: ANDRE VAN DER MESCHT South Africa
Overall Amateur Mr Universe. SERGEI OGORODNIKOV Russia:
Professional Mr. Universe:
1st: EDDY ELLWOOD U.K.
2nd: GARY LISTER U.K.
3rd: GIOVANNI THOMPSON Holland
4th: TERRY MITSOS Australia
PRO-AM POSEDOWN FOR OVERALL MR. UNIVERSE
1st: EDDY ELLWOOD U.K.
2nd: GARY LISTER U.K.
3rd: SERGEI OGORODNIKOV Russia

Running Time: 90 mins

* Available in NTSC DVD Only (Region Free)
* THIS DVD WILL PLAY ON ANY DUAL SYSTEM NTSC / PAL DVD PLAYER AND TV. Or any PC DVD.