Details: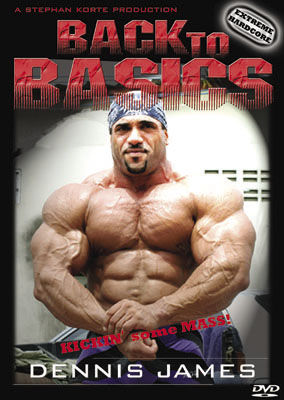 BACK to BASICS #1 - KICKIN' SOME MASS!
Experience true Hardcore Bodybuilding! See Dennis James at 278 lbs nine weeks out of the Mr. Olympia 2003 in his strongest, most massive and freakiest condition ever. A real shocker. You got to sit down and fasten your seat belt to get through this DVD! 100 minutes pure hardcore training!
A MUST SEE for every serious bodybuilder and strength athlete!
DVD CONTENT:
Workout 1 - CHEST
Incline Barbel Press, Dumbbell Flyes, Bench Press Machine, Cable Crossover
Workout 2 - BICEPS
EZ-Barbell Curl, Dumbbell Curl, Hammer Curl
Workout 3 - QUADS
Leg Extension, Front Squat, Leg Press, Walking Lunges
Workout 4 - HAMSTRINGS/CALVES
Leg Curl, Stiff-Legged Deadlift, Seated Calf Raise, Standing Calf Raise
Workout 5 - BACK
Lat-Pulldown, Seated Row, T-Bar Row, Barbell Row, Hyperextension
Workout 6 - SHOULDERS
Smith Machine Press, Dumbbell Side Lateral, Dumbbell Front Raise, Barbell Shrugs
Workout 7 - TRICEPS
Cable Pushdown, EZ-Barbell Extension, One-Arm Cable Pushdown
DIET/NUTRITION
Mr. Olympia 2003 Diet - Complete Meal Plan

Running Time: 100 mins

* Available in NTSC DVD Only (Region Free)
* THIS DVD WILL PLAY ON ANY DUAL SYSTEM NTSC / PAL DVD PLAYER AND TV. Or any PC DVD.