Details: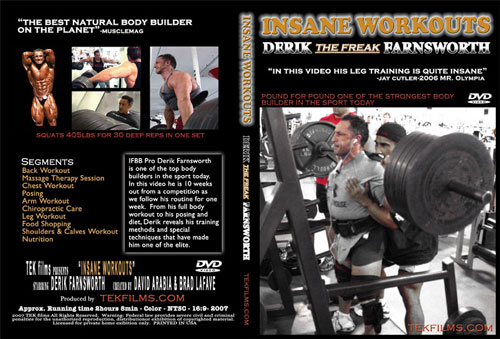 Derik Farnsworth - Insane Workouts
IFBB Pro Derik Farnsworth is one of the top body builders in the sport today. In this video he is 10 weeks out from a competition as we follow his routine for one week. From his complete body workout to his posing and diet, Derik reveals his training methods and special techniques that have made him one of the elite.
VARIOUS SEGMENTS INCLUDE:
Back Workout.
Massage Therapy Sessions.
Chest Workout.
Posing.
Arm Workout.
Chiropractic Care.
Leg Workout with squats of 405 lbs for 30 reps in one set.
Food Shopping.
Shoulders & Calves Workout.
Nutrition Segment.

Derik has competed in the Iron Man Pro event a number of times with considerable impact. He always comes in shredded and displaying his trade mark symmetry.

Running Time: 132 mins

* Available in NTSC DVD Only (Region Free)
* THIS DVD WILL PLAY ON ANY DUAL SYSTEM NTSC / PAL DVD PLAYER AND TV. Or any PC DVD.